Last week, I planned the perfect family night out.
Take-out pizza + bowling alley + 2 screaming toddlers = my idea of fun!
We drove to Pizza Hut and stocked up on delicious carbs, then drove to the bowling alley…
…only to be met with this:
Me – "Well, maybe they'll let us slide."
Wife – "Yeah. We're the only people here, and we have been here several times. Maybe they know us."
So we walk in with our pizzas, and before I can even plead my case to the lone employee working–we see his hand raise up to stop us.
Employee – "NOPE. You can't!"
Denied.
I pleaded our case, and he again stuck his hand up in protect.
We ate pizza in our car, then went in and bowled (with me growling under my breath).
Contrast the Bowling Alley Experience With This Pizza Place:
Antico Pizza is our all-time favorite restaurant in Atlanta.
Why?
Do they have the best pizza ever? No.
Are they the only pizza joint nearby? No.
Is their service spectacular? No.
Because they allow you to bring your own booze (BYOB).
They still SELL beers and wine at Antico, but we always grab wine or 6-pack of IPA every time we go.
The point:
Why does the bowling alley not allow outside food or drink?
Because they're concerned it might eat into their revenues (which is ALSO dumb, but I'll explain that in a second).
Why does Antico do the opposite?
Because they care about their customers' happiness above all else.
Antico wants you to have the best pizza experience possible when you are in their building.
Every single detail of their entire business revolves around THAT–from the ingredients they use to outside food and drink policy.
Result?
People FLOCK there, leave rave reviews, and tell all their friends about it.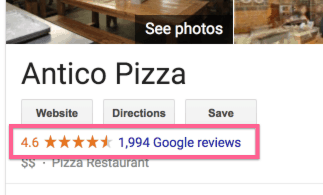 Meanwhile, the bowling alley in Rome has turned off a customer with 2 kids who lives down the street–for what?
An extra $10? $20?
The "Bring Your Own Booze" Model for Developing Loyal Blog Followers.
Ask yourself this question:
On my blog, what am I putting first? My success? Or my readers' success?
Your happiness? Or your readers' happiness?
The BYOB Model consists of 3 simple (but difficult) parts:
Your readers' well-being is your HIGHEST priority
Do whatever it takes to provide STELLAR experiences
Reap huge rewards due to WoM and CLV 🙂
1 – Make Your Readers' Well-Being Your Highest Priority
If this means publishing something you've been hesitating to publish, even though you KNOW it'll help your audience, do it.
If this means linking out to competitors in your niche, do it.
Whatever contributes to your audience's success = do that.
Pro Tip: Ever wonder why Google likes it when we link out to OTHER relevant and useful content? Google presumes we're trying to make our blog post the most helpful resource ever (Google loves ranking the most helpful resources ever).
In a recent post, Brian Dean had hundreds of outbound links in a post ranking in the top spot in Google.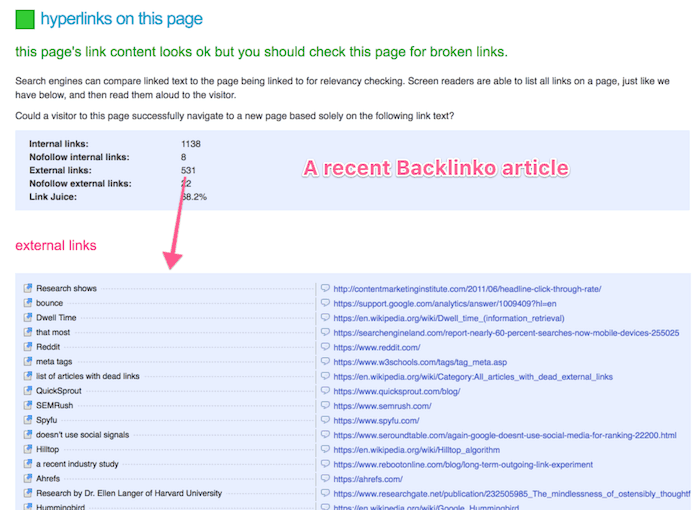 2 – Give Your Followers a STELLAR Experience
While I can't just tell you how to implement this on your blog (only you can figure that out), I can share my 2 favorite examples:
Zappos
Jay was getting married.
He purchased some shoes for his best man off of Zappos (as they had the cheapest price), but sadly the courier routed his package to the wrong location–meaning he would NOT have them in time for the wedding.
Jay called Zappos customer support.
They not only offered to overnight him a replacement at no extra charge, but they also upgraded his account to VIP status and issued him a refund.
"Zappos has earned a customer for life–in addition to all of this, I originally ordered from them because they had the cheapest deal on the shoes I needed." – Jay
(This story and SEVERAL other awesome Zappos stories can be found here.)
Derek Sivers and CD Baby
It was the late 90's and early 2000's–Amazon wasn't even on the scene yet, but CD Baby was (an online retailer of dog socks (jk, CDs)).
You know those automated receipt emails you get when you order something online?
Derek Sivers (then CEO of CD Baby) decided to take all of 30 minutes–and transform this silly little customer encounter into an experience.
Here's what the receipt email said:
Your CD has been gently taken from our CD Baby shelves with sterilized contamination-free gloves and placed onto a satin pillow.
A team of 50 employees inspected your CD and polished it to make sure it was in the best possible condition before mailing.
Our packing specialist from Japan lit a candle and a hush fell over the crowd as he put your CD into the finest gold-lined box that money can buy.
We all had a wonderful celebration afterwards and the whole party marched down the street to the post office where the entire town of Portland waved "Bon Voyage!" to your package, on its way to you, in our private CD Baby jet on this day, Friday, June 6th.
I hope you had a wonderful time shopping at CD Baby. We sure did. Your picture is on our wall as "Customer of the Year". We're all exhausted but can't wait for you to come back to CDBABY.COM!!
Aside from just being awesome–Search Engine Land estimates this email led to over 20,000 citations back to CD Baby's website.
Experiences.
3 – Why This Type of Behavior Actually INCREASES Profits.
Let's do the math:
Cost of taking a family of four bowling: $20
Average amount my family would spend on food at the bowling alley: $8 (It's actually closer to $0, but for the sake of this example….)
We go once every 3 months, that'd be $112/yr–or only $80/yr if they let us bring in food or drink.
Ever since the "no outside food or drink" incident, here's the total amount of money this bowling alley will EVER get from me: ZERO DOLLARS.
(We have another bowling alley less than 10 minutes away that is way better. They'll get our money).
CLV (Customer Lifetime Value) = "how much money this customer will spend on our business over the course of their lifetime."
Great businesses (and I'll argue blogs) do everything in their power to increase ALV (or Audience Lifetime Value. I made that up) 🙂
Why Experiences Drive CLV through WoM (Word of Mouth) Marketing
There are two types of WoM:
Positive WoM = you have a great experience and tell all your friends about it.
Negative WoM = you have a terrible experience and tell all your friends about it.
Let's say you have a terrible experience at a restaurant.
the waiter's clearly checked out
the food was late and cold
you found lipstick on your glass
A mediocre restaurant will apologize and take 20% off your receipt.
A GREAT restaurant will send over the manager to apologize, give you the entire meal for free, give you a $50 gift card and a $10 bar tab credit on your next visit.
What are they trying to do here? Great businesses take any mundane or negative experiences–and try to turn them into positive experiences that will drive positive WoM (and avoid negative WoM at all costs.)
So how can you take this back to your blog?
I dunno. YOU TELL ME.
What silly, quirky, fun, personality-infused things are you doing for your readers?
If you want people to share your blog posts–what are you doing to encourage that? (Simply putting share buttons on your site is NOT enough).
Nobody can tell you exactly how to create meaningful and unique experiences for your audience, but if you want to grow a profitable blog to long-term success, you MUST make this happen.
Although I'd start with two things:
Update all autoresponders to be more personal
Email a random reader once a week 🙂
In case you missed it, check out this week's podcast episode: How to Be Unique in a World Full of Redundant Content – Bella Avis