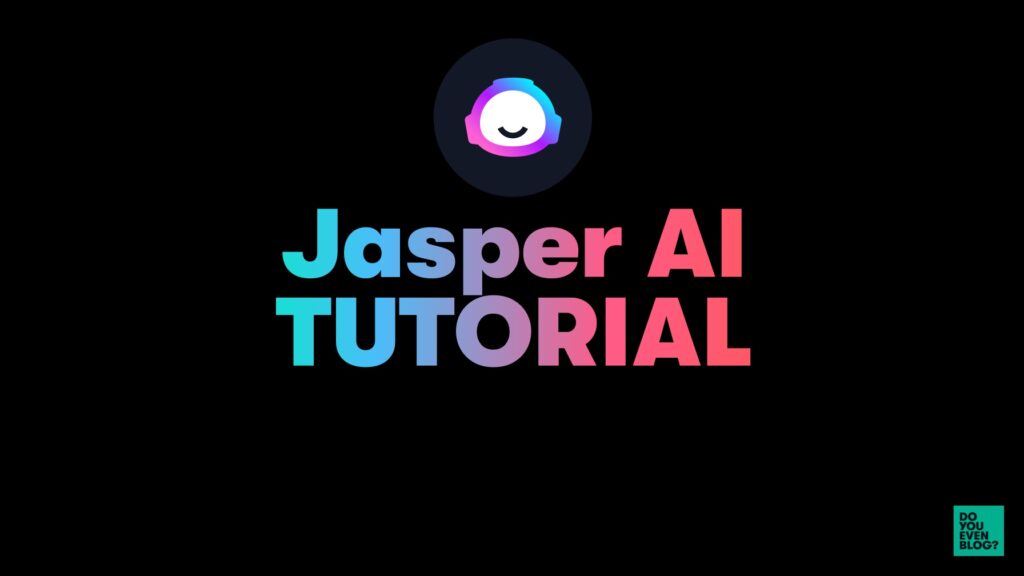 This is my full Jasper AI tutorial to help you make the MOST of the amazing writing assistant.
Yes, tools like Jasper CAN help you churn out high-quality content in minutes–but it definitely takes some getting used to.
Luckily, there are blogging nerds like me who have been OBSESSED Jasper (I've generated over 300,000 words at this point, and I'm even Jasper certified!)
So here are my top tips & tricks for making Jasper work better.
Want to get a free trial of Jasper AND get 10,000-word credits for free? Use the button below!
Related: Want to see my full review of Jasper AI? Check out this post.
What is Jasper.ai? (formerly Jarvis.ai)
Jasper AI is a tool that uses GPT-3 (an artificial intelligence software from OpenAI) to create content for all formats at scale.
SEO blog posts
Facebook Ad copy
Email newsletters
LOADS more.
It has the ability to write high-quality articles in a fraction of the time it would take a human. Jasper is also extremely versatile and can create content for all types of channels, including websites, social media, and email marketing campaigns.
But of course, there is a DEFINITELY a learning curve in the Jasper software.
Does Jasper offer a free trial?
Yes, but only if you use an affiliate link they provide to creators (like us!). It's not on the official site.
The goods news? If you sign up for Jasper with our special link, you get 10,000-word credits for free!
Is Jasper Boss Mode worth it?
If you ONLY produce short-form content (copy for ads, for example), you could probably do without Jasper Boss Mode.
But if you produce long-form content like blog posts or ebooks, Jasper Boss Mode is a MUST.
Here's why:
The long-form editor (complete with "power mode" and "SEO mode," see our notes below) is amazing and required for long-form content
Boss Mode gives a 2,000 "content lookback," which means the AI looks back at 2,000 words of content to better understand what you want it to create! This is far more accurate.
Jasper commands are very handy
Boss Mode is a must-have for long-form content creators, but at least they lowered the price to $59/month! (it used to start at $119/month.)
More Jasper Resources:
Don't get me wrong, THIS blog post is amazing (I'm biased), but there are also several of handy resources for making the most out of Jasper:
The Official Jasper Bootcamp
The team at Jasper released a VERY detailed bootcamp that goes over EVERYTHING you need to know to get started with GPT-3.
This is great for those who are brand new to the tool, or just want a refresher. (But I also cover most of the basics here, as well as more advanced tips and tricks).
The Jasper Facebook Group
The community Facebook Group is actually really active and helpful! They are constantly sharing new tips, examples, and case studies.
There are also job threads. Pretty great if you're a freelancer (or want to hire freelancers).
The Jasper Blog (and live trainings)
You can also head over to the Jasper website and register for one of their free trainings. They're constantly doing cool collaborations with other content creators, and always updating the blog with new resources.
How does Jasper work? The basics
Jasper is an AI-powered writing assistant that assists writers, bloggers, and other creators in getting their ideas on paper more rapidly.
GPT-3 is the name given to this technology (from OpenAI). Not to get too technical, but GPT-3 is essentially artificial intelligence software that has been "trained" on a massive data set.
What Jasper does when it creates content for you (GPT-3 explanation)
It's pretty simple!
You give Jasper basic info on what to create.
Jasper takes your info & analyzes its huge database of internet content
Jasper writes some outputs for you to review and edit
That's GPT-3 in action.
You input instructions on what you want (and Jasper makes that process easier through templates, recipes, power mode, etc!), and the AI spits back outputs.
Easy enough–but you'll discover that doesn't automatically mean the content will be RIGHT or GOOD.
Learn Jasper AI: A breakdown of Jasper's tools
Here's a brief tour of the Jasper platform, and how to use each feature.
A quick tour of the platform
Here's a quick tour around the Jasper dashboard:
The dashboard is simple and straightforward, usually showing you a bit of news, how many credits you've used recently, etc.
How to use Jasper Templates
"Templates" in Jasper are simply pre-made programs to accomplish a specific, short-form copy.
Facebook Ad headlines
Blog post outlines
YouTube video outlines
dozens more.
Here's how templates work:
You open the Jasper template you want
Jasper will prompt you for a specific type of input (for example, "Blog post title" or "product name" or "benefits of product."
You'll set the tone of voice (optional)
You'll select how many different outputs you want (I suggest 1-2)
Hit "Generate AI content"
Jasper spits options out
With some outputs, you can choose to copy them, "star" them for later use, or regenerate more copy.
There are a few basic "categories" of templates that Jasper offers…
Here are some blogging Templates:
Paragraph Generator (NEW in April 2022): You give an idea of what to write, and Jasper will spit out a paragraph (or more) of content for you to use!
Long-form assistant: This template walks you through, step-by-step, of what to include in your blog post (introduction, conclusion, etc).
Blog Post Outline: This is just what it sounds like…Jasper will help you create an outline for your blog post!
Blog Post Topic Ideas: Jasper will help you brainstorm ideas for your next blog post.
Blog Post Intro: Jasper writes an intro to your blog post
Blog Post Conclusion Paragraph: Jasper writes a nice little summary conclusion.
Creative Story: You'll give Jasper some input, and the AI will write a story that engages readers.
There are a few more that relate to long-form articles, but those are the bigger ones.
Copywriting Templates:
AIDA Framework: AIDA stands for Attention, Interest, Desire, Action. Give Jasper info about your product, and it'll output the framework used by copywriters around the world to write effective sales pages, landing pages, etc.
PAS Framework: A similar framework to give sales copy, PAS stands for Problem, Agitation, Solution.
Facebook Ad: You'll give Jasper info about your product and target market, and it'll write ad copy! THIS IS GOLD for FB ad people–mostly due to the fact you generally need SEVERAL ads to test.
Google Ads: Same thing, but for Google Ads!
Product Description: You'll give Jasper info about your product, and it writes a description for you to use on e-commerce platforms, etc.
SUMMARY: Templates are pre-made formulas for a specific, short-form copywriting objective! They're available on all Jasper plans.
How to Use the Jasper Long-Form Document Editor
The long-form editor is one of my FAVORITE features of Jasper.
It's an AI-powered writing document that makes it easy to write long-form content like blog posts, articles, and even books!
This is where I spent 95% of my time in Jasper.
Access to Jasper's commands (more on this below)
Content "lookback," meaning Jasper reads the previous words to better understand what you're writing.
SEO mode and power mode, etc.
Here's a quick overview of how to use the long-form editor:
1 – Create a new document
First, create a new document (either from scratch, or you can use the "long-form blog post" prompts to help you get started. That basically just helps you whip up the title, outline, and intro to your post–but you can also just do this in the blank editor).
2 – Optionally, just start writing!
Honestly, it's a pretty decent text editor even apart from AI tools. Personally, I like to write a little bit on my own just to help give Jasper more CONTEXT for what we're writing about.
PRO TIP: The more you write, the better Jasper gets! At saying the "right" content, adapting to your tone and formatting, everything.
3 – Use a recipe or template (in Power Mode) to get started.
If you want to kick off your document with a title, outline, content brief, or intro, etc…
You have access to all of Jasper's templates right in the long-form editor (accessed via the "power mode" button).
4 – Don't forget to add a title, and optionally a "content brief" to Jasper
While you don't have to do this, it's generally a good practice to fill in the title and description boxes to help Jasper better understand what to create (especially at the beginning of a long-form document BEFORE Jasper can look back!).
5 – Use Jasper Commands
In the long-form editor, you'll see a "compose" button that will run your instructions for Jasper to analyze and give output.
However, there is another approach to instruct Jasper on what to create—through "commands."
Basically, you can "command" Jasper with natural language processing (i.e. you say "write a blah blah"), and it follows your orders.
You can easily use "natural language processing, " i.e. just telling Jasper what to do in plain English.
Here are some examples of commands you can give Jasper:
"Create an outline for my post."
"Write a paragraph on the benefits of black garlic."
"Give me three ideas for blog post titles."
"Add a section on 'how to use black garlic.'"
6 – If you're a SurferSEO user, you can use the SEO mode
Note: SurferSEO is a separate, paid tool for SEO bloggers.
You can open the SEO mode sidebar and get access to all your NLP tools to help you optimize your document for SEO (and it updates in real-time!)
7 – Use the "compose" button to fill in the gaps.
When you need to quickly finish a thought, sentence, or paragraph, tap the compose button (or use the keyboard shortcut) to quickly tell Jasper to start writing.
Note: You'll end up deleting a LOT of what the AI writes, but that's normal–see my tricks below…
8 – See my tips & tricks below…
Below I'll share even more tricks to making the Jasper long-form editor work SWIMMINGLY.
Jasper Recipes: What They Are and How to Use Them
Next up are Jasper's long-form recipes.
These use the long-form editor ONLY (and so they only make sense for the Boss Mode Jasper plan).
Jasper Recipes are community-made templates for different types of content that you can deploy into the long-form editor with one click.
The best news?
You can create and save your own recipes!
I've been making my own recipes for different types of blog posts.
short info content
review posts like this one
round-up listicles
To create a reusable Jasper recipe:
Click "recipes" and then "new"
Fill in the name and description of your recipe (you can make these public or private btw)
Fill in the recipe! This is what will be deployed directly to the long-term editor when you run your recipe.
Save it.
You can then "deploy" the recipe to the long-form editor, complete with the variables and commands you wrote in the recipe.
Once the recipe is run, you'll simply go through the recipe and…
Replace the variables you created
Run the Jasper commands you wrote
Related Reading: Jasper AI Recipes: A Complete Tutorial for 2022
9 Tips and Tricks for Making Jasper Work Better
Believe it or not, that's pretty much it as far as the Jasper platform…
You give Jasper inputs (either in specific templates or in the long-form editor)
Jasper analyzes its database on the internet
Jasper gives you outputs.
That's the easy part. The HARD PART is figuring out how to get Jasper to actually produce GOOD content!
And it can take a while to learn.
Here are my top tips for making Jasper work better & faster:
1 – Think of Jasper as an ASSISTANT
Jasper is NOT a completely one-click "done for you" type of tool, but rather an assistant that can help you get your work done faster and better.
If you think of Jasper as your assistant, not a human mind that KNOWS WHAT YOU WANT.
You have to give Jasper SPECIFIC Instructions–else it's going to be useless for you.
And…the more specific you are with your instructions, the better Jasper will be able to help you.
2 – Edit as you go
Again, the more you GIVE Jasper, the better he gets.
It's vitally important to edit Jasper's outputs as you go.
Correct the INFORMATION first and foremost
Format the content the way you like (Jasper picks up on this!)
Delete bad or unneeded content
THEN get back to letting Jasper create outputs. This is the most important tip in this entire article.
Many new Jasper users think Jasper's going to do ALL the work for them. It won't.
Let it create content, then edit, then go again.
3 – Get used to constantly deleting Jasper's work.
Speaking of which–don't be worried if you find yourself constantly deleting Jasper's outputs.
It's completely normal.
In fact, the more you use Jasper, the more you'll find yourself doing this.
Jasper gives you a lot of content. Most of it will be unusable. That's just the way it is.
The key is to get used to editing and deleting quickly so quickly that Jasper starts to pick up what you're doing–faster.
Towards the end of a blog post–I usually find that Jasper is MUCH better at anticipating what I want it to do.
4 – "Pre-load" Jasper with facts and opinions!
If there's one thing Jasper DOES NOT do well, it's come up with your opinions or accurate facts.
You have to give Jasper those.
The best way to do this is to "pre-load" him with information before you start writing.
For example, if I'm going to write a post about "essential oils for men," here's what I'd do:
Google the search term and open the top results
Go through each post BRIEFLY, and make notes
Collect the accurate data, reviews, product info, etc, that I need
Come up with my overall opinion on the topic
COPY AND PASTE MY TALKING POINTS RIGHT INTO THE TOP OF THE JASPER EDITOR.
Then I'll start writing and using Jasper. I basically just TOLD him the facts and opinions about the product, and now he'll USE that info in his outputs.
This makes fact-checking and editing so much easier.
5 – Limit Jasper outputs to 1 or 2
Whenever you hit "compose," Jasper will, by default, give you 3 outputs to choose from.
This is great if you want QUICK options, but it also eats up a ton of word credits.
I generally leave my outputs set to 1 or 2, to save credits. You can always re-do it if you don't like those.
6 – Don't give up on Jasper! It gets easier (and way faster)
Like any new software, it will take a hot minute to "figure things out" on the Jasper platform!
All of the AI tools are new, so there's a bit of a learning curve.
I remember when I first started using Jasper, it was SLOW and painful (I literally went through 3 different free trials, before I became a full-time paying user lol).
I'd have to edit EVERYTHING it wrote, and it would take me forever to get a post done.
But little by little, I started discovering these tricks and tips, and Jasper became exponentially more useful to me.
7 – Use the 3 asterisks shortcode
Sometimes, you'll want to tell Jasper to IGNORE certain sections of your content, and that's where the three asterisks come into play.
Just put those on a line in the long-form editor, and Jasper will ignore all the content above it.
This will help the AI avoid duplicating content it's already written, and keep it more focused!
8 – Use voice dictation to speed up the process even more
This isn't really a Jasper trick, but more of a writing trick in general.
Look up the keyboard shortcut on your computer to enable voice dictation (it's different from Mac and Windows). This will allow you to SPEAK your content, rather than type it.
You can even speak Jasper commands. It's almost like talking to a real AI, right??
9 – ALWAYS use the built-in plagiarism checker
This is one of those "do NOT forget this" tip.
The built-in plagiarism check actually uses Copyscape, a popular plagiarism detection tool.
It's way more accurate than the free plagiarism checkers you'll find online, BUT it does cost a bit extra.
How to use the plagiarism checker:
You'll need to load some money to Jasper (I loaded $10)
Click the plagiarism button in the long-form editor
Run the checker (it'll cost a few cents. It's super cheap!)
If it finds plagiarized content, it'll show it to you!
That's it, but don't forget to run this, ESPECIALLY if you haven't been heavily editing the Jasper outputs.
Some users have found the paragraph generator provides up to 20-30% plagiarized content. NO GOOD.
Jasper AI F.A.Q.
Let's break down some frequently asked questions about Jasper and AI writing assistants in general.
How do I export content from Jasper?
At the time of this writing, it's just a "copy and paste" sorta thing. There's no official export button for a specific format.
The good news is–I've personally found the "copy/paste" work really well for formatting (some tools can mess up formatting, but Jasper's seems ok).
How do I use Jasper AI?
Here's the basic 3-step process for using any of Jasper.ai's tools: First, you give the AI inputs on what to create. Second, the AI will analyze its database of internet content. Last, Jasper will output content based on the inputs and data.
Which tone of voice is best to use?
While you can leave the "tone of voice" field blank, it definitely helps to shape the AI to YOUR specific style of content! You can use adjectives like " conversational" or "formal." You can even put in celebrities like "Will Ferrell" or "Michelle Obama." Cool!
Why did Jarvis change its name to Jasper?
In early 2022, Marvel (the team behind Iron Man, The Avengers, etc) reached out to the Jasper team and asked them to change their name for legal reasons (Jarvis was the name of Tony Stark's AI assistant in the Iron Man movies). The team came up with "Jasper" and rebranded their platform.
Final Thoughts on Learning Jasper AI
Yes, Jasper can be an insanely powerful tool for your writing workflows…but there IS a learning curve!
Think of Jasper an an assistant
Edit as you go
Delete all unnecessary content
Give Jasper detail to help keep it focused
Start following these tips, and you'll quickly realize just how well Jasper works!
Ready to get started with Jasper?
Use our special link to get a free trial PLUS 10,000 words credited to your account!