Sooo my latest mega-ultimate-value-bomb blog post isn't quite finished for this week….but luckily I've had these quick SEO audit tips ready to go! Here's your weekend blogging homework:
When we hear "SEO audit" we usually think "LOTS of time and money and stuff I don't care about…"
Yup. It sounds technical and difficult.
So why should you care?
Maintaining a clean website is essential for ALL bloggers, not just those trying to "do SEO."
Nobody likes broken links. It's bad user experience.
Your readers DO Google your brand name. You need to control what they see there.
If you EVER intend to "do SEO," you'll need your website nice and tidy for Google.
Good news though…
While running a full SEO and website audit could take hours and encompass looking at a TON of things…there are several quick and easy mini-tests you can run to potentially improve your site!
The following tips utilize nothing but free tools, and shouldn't take you that long.
Heck, even if you only see a 0.5% boost in rankings, that'd still be worth it given the small time investment.
WARNING: Throughout this entire post, we're going to assume that if Google could speak, it would sound exactly like Samuel L. Jackson.
Let's fix yo site mutha$&#a.
This blog post is also available via podcast episode on \\ iTunes \\ Stitcher \\ Google Play \\ Overcast \\ Spotify
---
6 SEO Audit tips you can do in an hour:
1 – Is your site being indexed by Google?
"I don't EVEN know yo blog." – Google L. Jackson
This tip is mainly for new bloggers.
Log-in to your Google Search Console (If you haven't set this up yet, DO IT ASAP. Here's how)
Click on "Google Index" – "Index Status"
Just make sure your stuff is showing up 🙂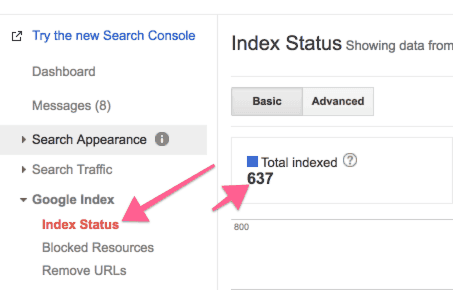 There's a 97% chance you'll see numbers there. If so, you're probably good.
If not, read this post and fix it.
EDIT: Your site can have multiple versions in Search Console!
It should be pointed out that you can enter and track 4 different versions of your website:
https://doyouevenblog.com
https://doyouevenblog.com
https://doyouevenblog.com
https://doyouevenblog.com
It's actually not a bad idea to create a property for each of these, and then group them 🙂
For more about how to group properties, check out this post from Google.
2 – Run a scan for broken links and fix them.
There are 1,000,001 ways to check for broken links on your site…but most either involve shelling out $$$$ (I use ahrefs, but Screaming Frog is another) or installing Chrome add-ons.
May I present to you, the wonderful Dr. Link Check!
This is a fantastic link checker, and the first 1,000 links are free! (I doubt you'll need more, but this is a great start either way).
On my first crawl I had 3 broken links, and Dr. Link Check showed me where they were linked from as well 🙂
FAQ – What do I DO with broken links and 404 errors?
See the …/shirt URL above on my site, and the "broken" tag beside it?
That URL leads to a 404 page.
Google L. Jackson would break it down like:
404 – Page not found:
DAMMIT WHAT.
410 – Page deleted:
OHHH ok it's supposed to be gone forever.
301 – Permanent redirect:
MY MAN. I got you! I'mma assign all dat OLD link just to yo NEW url.
So for any pages on your site that are currently returning 404s, you either want to mark them as deleted in Google's eyes, or create a permanent redirect to either RELEVANT content, or your homepage.
Here's exactly how you do that.
(Oh, and for broken external links [links to other sites outside yours]…like the my first two above…find your posts with those links and go change the links or delete them.)
3 – Make sure Google sees your site as mobile friendly!
I'm seriously hoping you've covered this already, but if not, use Google's check er here.
If you come up short, honestly you'll want to change WordPress themes. I know that stinks to hear, but this is important.
4 – Check your site for duplicate meta tags!
Wait what am I SUPPPOOOSSED to care about mutha$&#*? – Google L. Jackson
Google HATES duplicate content of any kind.
You should only have ONE H1 tag per page
You shouldn't have duplicate posts/pages on your site, OR
duplicate posts/pages on OTHER peoples' sites
Luckily, you can see a bit of this in Google Search Console:
It'll also show you if you have super short or super long meta descriptions or titles.
This is handy too, but you MUST try and fix duplicate content ASAP!
Pro Tip: Wanna see if there are duplicates of YOUR content…out there on the internet? Copyscape is a great free tool for this.
5 – Check for crawl errors!
Time to head back to your search console and check for crawl errors.
There are a TON of different (an honestly super weird) errors that Google L. Jackson's robots could give, and we don't have time to go into every single one here.
2 things for crawl errors though:
Click on them and it'll hopefully give a bit more info
If you're still like "UMM what does this even mean?" Check out this extensive guide to fix crawl errors.
This blog post doesn't need to cover every single error, as all of you will have DIFFERENT errors, so the Moz post above is incredible for searching for specific errors.
6 – Not really an SEO Audit tip, but check your internal links!
Girl you know I love yo internal links! Helps meh figure out what content of you's is important!
Right you are Google L. Jackson.
Not only do internal links tell Google which pieces of your content are most important, but they also help your READERS find your best content, keeping them on your blog longer & increasing the chances they become a follower.
Head to your search console again, "search traffic" – "internal links."
Most of the top results aren't actually pieces of content though.
Scroll and look for your BEST, "cornerstone," "pillar" pieces of content, and make sure there are plenty of juicy links there.
I recently added Yoast premium to my arsenal of blogging tools, and it actually shows me which posts I want to link out to in my WP dashboard. Handy.
Conclusion:
I hope you found these SEO Audit tips and tricks helpful.
They're pretty standard practice for the most part…but I've found these to be the LEAST time-consuming fixes.
Stay tuned next week…
I'm dropping a sweet post for how to craft delicious headlines that drive clicks and traffic…by using my two favorite headline analyzers!