Below is a non-sponsored SmarterQueue review, a tour around the dashboard, and some quick facts to help YOU decide if this is the social media management & automation tool for YOUR blog or business. I'm a loyal paying customer now 🙂
*
Raise your hand if you have ever DREADED filling up your social media sharing queue?
Me too.
We all know blog marketing is important…but automating, managing, and maintaining your channels can be tiring, boring, and even frustrating.
Well, SmarterQueue is here to save the day.
What is SmarterQueue? (SQ)
SQ is a social media management and automation tool. Most bloggers use these tools to load "share queues" with their blog content (and other people's content), to pre-schedule posts to Twitter, Facebook, Pinterest, Instagram, LinkedIn, etc.
In addition to scheduling content to be shared, most tools like SQ come with built-in analytics so you can judge which pieces of content perform, at what times, to which platforms, etc.
SQ has incredible analytics AND evergreen content recycling, making it one of the most powerful social media tools I've seen.
Why I switched from Buffer to SmarterQueue
Full disclosure: Throughout my blogging career, I've used Hootsuite, Buffer, AND Hootsuite. I've been around the block, social media wise.
For the past 2 years, I've been paying $110/year for Buffer Pro, which I was more or less satisfied with.
The UI is ok (not fantastic)
The Buffer Chrome extension is great.
The features were pretty standard.
Overall, Buffer worked out well, but there was a huge issue: it still took A TON of my time every week to add content to my queues and keep things updated.
2 months ago I got sick of it, and started shopping around again.
After grumbling at the $50/month price tag of MeetEdgar for about an hour, I eventually some random blogger mentioning they switched to SmarterQueue.
Right off the bat, I noticed they had the core feature I was looking for in a social media automation tool: content re-queueing (or recycling, or evergreen, or whatever you'd want to call it):
From their features page…
And what's the next page I generally look at?
Duh. The SmarterQueue Pricing page:
Last but not least, the free trial sold me. I decided to pause my Buffer queue and try out SQ for a few weeks to try it out.
That was 3 months ago, and now I'm a paying user 🙂 🙂
Here's my SmarterQueue review, walkthrough and tutorial
First, if you'd like this in video form, watch it below!
1 – First, you add your social profiles
Easy. Connect the social media profiles you want to share to. They currently support…
Facebook
Twitter
Instagram (they also have DIRECT to Instagram scheduling now, which is super awesome)
LinkedIn
Pinterest (!)
Their Pinterest scheduling actually works really well, and COULD be an entire replacement for Tailwind (saving you even more cash per month probably).
If you're staying up to date on current Pinterest marketing trends, you'll know that Pinterest wants "fresh" content more than ever. 
This means "less spamming the Pinterest platform" really, which is what Tailwind was really good at.
In my opinion, this puts Smarterqueue 100% on par with Tailwind now. It has less fancy features–but those fancy features aren't needed as much anymore.
2 – You set your categories
I have separate categories for my own content, other people's content, random comments, and even client posts. You could totally choose categories based on…
different blogs you run
categories of your blog posts
normal content vs. sponsored content
etc
3 – You set your sharing schedule
This is where SQ REALLY shines.
Here's the Buffer scheduler:
You have do set this for every single social profile. It's annoying.
Here's the SmarterQueue schedule: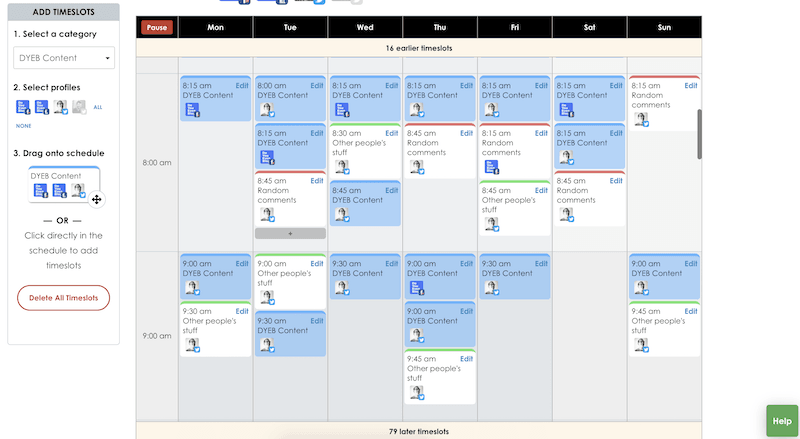 You can either drag-n-drop different categories/social profiles straight to the calendar, click within the calendar, OR have SmarterQueue analyze your social profiles and create a custom schedule automatically.
Um wait what?
Yup. When you first sign up and connect your social profiles, SmarterQueue can dig back through your old content on Twitter, Facebook, etc, and create a schedule for you!
It's magic.
4 – You add content!
There are a few different ways to add content to your queue:
From any page on the internet via the "bookmark link" (see below)
From the menubar in your dashboard
Add in bulk via an RSS feed OR a .csv file….from within the dashboard! Super sweet
While SQ doesn't currently have a Chrome extension, they DO have a link you can bookmark, and simply click to share from any website.
In addition, the ability to add and save RSS feeds for adding content is absolutely amazing.
Check out the add-content dashboard within SQ itself.
5 – You check analytics! (In 3 really cool ways)
For the price, SmarterQueue's analytics are FAR superior to that of both Buffer and MeetEdgar.
1- You can analyze any social media account on the web. Not just yours. This provides an incredible amount of insights.
What types of tweets get more retweets, those with pictures or those without? Those with links or those without? Which hashtags get me the most likes and engagement?
All of THOSE question. It's insanely useful.
Here's an example from my own Twitter account. What other blogger mentions get me the most retweets?
2 – You can analyze every single post/share/tweet
Most social media tools have this, but SmarterQueue's is by far the most user-friendly and helpful I've seen. You can either:
Scroll through your past posts in queue (filtered by clicks, retweets, or time), or
View each evergreen post and compare cycles!
Below is a Facebook post I'm recycling:
3 – Last, you can run reports
I.e. you want to see some fancy graphs and statistics over a set period of time. I.e. My Instagram page over the past 3 months.
No screenshots needed, but it is pretty handy.
[NEW] SmarterQueue Engage
This is a really new feature they just added!
Basically, it's a dashboard for…
Tracking conversations on Twitter & Facebook that you'd like to be a part of…
And engaging right from here.
So if you run a dog grooming service and blog, you might input some sources related to dog grooming (top pages on Facebook, or famous dog groomers on Twitter).
From this dashboard, you'll be able to dive into their tweet threads and conversations, inserting your blog/brand right there 🙂
So if I were trying to stay on Pat Flynn's radar, I might follow his stuff.
I can like and comment on his tweets from here!
SmarterQueue vs MeetEdgar
The draw to both of these platforms is the ability to RECYCLE content automatically, so you don't have to log-in to the platform every day to schedule your content.
It's an amazing feature, and one people are generally willing to pay more for. But how much more??
MeetEdgar is a flat $50 a month, and provides the following advanced features:
Content recycling
Categories
Import via RSS
Browser Extension
Direct video uploads
Auto-expiring content
Sweet! BUT SmarterQueue has all of these too starting at $16 a month, PLUS some features MeetEdgar doesn't have, such as…
Instagram, Pinterest, and Google + supported (MeetEdgar only has Twitter, Facebook, LinkedIn)
Advanced analytics
"Choose your own features" pricing
Did I mention way better pricing?
SmarterQueue vs Buffer
Not even close.
Buffer is the old dog in this fight, and has had good market share for years. However, their dashboard and features haven't gained much in years.
Drawbacks to Buffer:
No content recycling (this should be enough)
advanced analytics costs extra
basic scheduler (no categories, etc)
Pros to Buffer:
They have Pinterest and Google+ available now (SmarterQueue is coming soon)
They have a free version (which is quite limited)
That's about it. In a SmarterQueue vs Buffer vs MeetEdgar showdown, SmarterQueue will get the knockout every single time.
Why does SQ get my full recommendation for bloggers? What are my favorite parts?
Straight-up, evergreen content recycling will save bloggers a LOT of time…without breaking your bank account.
Period.
It's still a user-friendly dashboard anyone can navigate, while still providing an incredible amount of features for the price point.
So, is SmarterQueue right for you?
SmarterQueue is absolutely right for you IF
You find yourself dreading going into your sharing platform and SCHEDULING stuff. So much time :/
You can reasonably spend $16-22 a month to market your blog
You're looking for a little bit more growth out of your social media marketing
SmarterQueue is NOT right for you IF
For whatever reason, you like manually scheduling posts over and over again
You don't want to spend any money for blog marketing (totally valid reason)
That's it, really!
If you're looking to step up your game with advanced analytics and scheduling flexibility, and want to save time on scheduling, it's an absolutely steal at their price point.
I'm a power user now, and have no intention of trying anything else.
Question for you, are you going to give SmarterQueue a try? Comment below!