Learning how to start a blog?
Below is the most comprehensive single resource on the internet.
If you've read a few "how to" posts already, this tutorial is…bigger.
From setting up a domain, hosting and WordPress…
To driving Pinterest & SEO traffic and making money from affiliate marketing and products.
It's all here.
How to USE This Blog Tutorial
This is NOT your average 'how to blog' post–it clocks in at 10,000 words.
My suggestions:
If you haven't started a blog yet, I'd read the first few sections, then START. Bookmark this post and refer back to it once you've actually got the blog set up.
If you already have a blog, Use the navigation above to head to the subjects you'd like to learn more about!
---
Blogging for Beginners – What Does Blogging REALLY Look Like?
Something like 80% of bloggers don't make it through their first year.
Blogging is really hard.
You will be surprised how LITTLE website traffic you're getting.
You'll be amazed at how much time it can take.
You WILL lose focus and struggle with motivation.
WAY too many bloggers quit in their first year due to overhyped expectations!
Don't be that blogger.
FAQ: How long will it take to build a profitable blog?
If you want full-time income from your blog, it's going to take 18+ months in the best case scenario. Part-time income could occur much sooner!
I'd bet my life savings (not a huge risk) on the following: If you were to publish 3 pieces of content a week for 3 years, you would be bringing in a few thousand dollars a month.
Bloggers who persist and consistently publish good content are the ones who thrive. Let's be THOSE bloggers.
Why start a blog?
Wanna make side income?
It won't be easy 🙂 This post covers types of blog monetization, including affiliate marketing, info products, online courses, etc.
Just want to write?
Expressing your ideas and stories is fun! Of course, it stops being fun when you realize nobody reads it–which is also why we talk a lot about growing traffic.
To provide exposure for something else
Blogs are marketing tools! Creating content is one of the best ways to generate leads for small businesses, promote a service you're launching, or even to serve as your personal portfolio!
To plug into a community
Not all your friends share your passion for pet turtles, we get it. Starting a blog about your passions is a fantastic way to find like-minded people.
The bloggers who see the most growth in year one are those who get connected with awesome blogging groups. Build relationships and DO NOT HESITATE TO ASK QUESTIONS!
Speaking of communities, Click here to join the Do You Even Blog private Facebook group.
You'll get free access to a TON of helpful bloggers, some of which make $100k+ from their blogs, and you'll find NO spammy self-promotion or sales (even from me, and it's my group!)
Nailing Your Purpose and Choosing an Avatar
I KNOW you'd rather jump into setting up WordPress and buying domains…
But defining your mission and reader avatar is a VITAL step to connecting with people and driving BLOG TRAFFIC.
Knowing your purpose helps decision making (I.e. what should I focus on right now to grow my blog?), as well as help you persist through months 6-18–when most bloggers quit.
"Find your why!" is corny, but it CAN actually be helpful to think through while choosing a topic to blog about! Speaking of which…
FAQ: Help! I don't know what to start a blog about!
First off, nothing is permanent! If you end up choosing a niche and HATING it 6 months from now, you can quit. It's more like dating and less like marriage.
That said, list out 5 subjects you're
passionate about.
qualified to teach about.
itching to learn about.
Out of those 15, pick the topic that fires you up the most and START.
It's incredibly important you understand exactly who you are creating content FOR.
Definition – An Avatar is a hypothetical representation of your ideal reader, or your target customer, etc. Why is this important?
Later on, when we talk about creating good content and monetizing your blog, we will talk about solving your reader's problems. It's the single best way to connect with people, make a difference, and sell products.
If you don't fully understand your readers, you will not be able to connect and sell to them.
To define your avatar, answer these questions:
Hold old are they?
Gender?
What are their struggles as it relates to your blog topic?
Frustrations?
Conversely, what are their likes?
What do they desire the most as it relates to your blog topic?
What do they want to learn? Why do they want to learn it?
Here are extra credit questions that could help you market your blog later…
Where does my avatar hang out online?
What's their social media platform of choice? (Pinterest or Reddit?)
What other blogs does my avatar follow?
What podcasts do they listen to?
What YouTube channels do they watch?
FAQ – The more human you can make your avatar, and the more details you can attach to him/her, the better! Knowing them is the first step to solving their problems (thus growing traffic and selling to them).
My personal example: Meet my avatar, Pat!
Pat has already read about blogging a bit. He's seen a few "how to start a blog" courses or articles like this one already 🙂
But, he's either
Not pulled the trigger yet, or
He's pulled the trigger and has a blog, but he's not satisfied with its growth.
She wants MORE traffic, email subscribers, and monthly blog revenues!
Despite the insane amount of blog tutorials on the internet…Pat has been overwhelmed and struggles with the actions needed to facilitate growth.
Pat also struggles to find TIME to blog, as he has a day job, is a parent, or simply underestimated the amount of time it takes to run a blog.
Do You Even Blog aims to help Pat with every piece of content of our blog & podcast, and it's built into every piece of marketing.
Know your avatar.
Write and market for your avatar.
---
Choosing Your Platform, Domain Name, and Hosting
Ok new bloggers, here's the ORDER of actions:
Choose and find an available domain name, but DON'T buy yet.
Settle on a platform (WordPress)
Choose a "host"
Purchase a hosting package and domain at the same time. (You'll save money!)
Choosing a Name for Your Blog and Finding a Domain Name
Your name is one of the first ways potential fans decide what you're about and who you are.
That's why your name is so important.
If you were a 45-yr old single mother of 3 kids, which blog would you be more attracted to?
parentinglife.com
momlife.com
singlemomlife.com
#3 of course. It's much more specific to what you care about.
What should a name have?
Your blog name doesn't need ALL of these, but the more the better.
A blog name should be easy to say aloud!
It should be easy to spell & type. If you use fancy words or weird combinations, it can be really tough for people to type in your domain.
Keep it short and brandable.
Grab .com's please! .net, .org, and .co are also ok, but avoid the fancy .ninja or .site or whatever.
Avoid hyphens.
Avoid double letters between words – petessite.com looks odd.
You should like it and be proud of it 🙂
doyouevenblog.com wasn't my 1st choice, but it was brandable, easy to say, and is easy to read and type out.
Where can we find available domain names?
How much does a domain name cost?
Assuming a domain is available for sale, it'll run you about $10-15 per year.
This does NOT include hosting, which is more. However, we'll show you how to get a FREE domain with your hosting below 🙂
Which blog platform should you use?
By platform, we mean the actual software tool you'll use to create and publish a blog.
Common platforms (also referred to as CMS, or Content Management System):
WordPress (both on WordPress.com, and the WordPress.org verson…which is what we'll be using as it's cheaper and more flexible)
Wix
Weebly
SquareSpace
Medium
Joomla
a few other random ones
My recommendation: USE WordPress software hosted on your own 3rd-party hosting account. (more on this below)
WordPress powers 30-40% of the entire internet, for good reason: It's easy to set-up, use, and offers the most flexibility.
What Is Blog Hosting, How Much Is It, and Which Host Should I Choose?
When bloggers refer to "hosting," we are referring to disk space essentially.
A website is nothing but a bunch of files–like files on your computer–and these need to be hosted somewhere. That's what you're paying for.
FAQ – How much does hosting cost? Website hosting usually varies anywhere from $50/year to $5,000/year…depending on how much storage and bandwidth you need. NEW BLOGGERS only the cheapest. Period!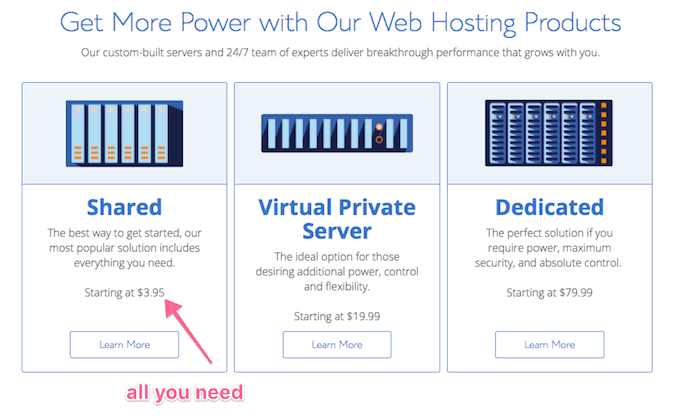 I use Siteground, which is an amazing choice for established bloggers, but it isn't the cheapest option to start.
For new bloggers, I recommend Bluehost for 4 huge reasons:
You'll get a FREE domain when you get a hosting package.
It installs WordPress automatically (it's amazing actually)
Their hosting is priced well.
Their customer support is quick and geared towards bloggers.
Why I Stand Behind My Bluehost Recommendation 110%
It's true. Many bloggers promote Bluehost ONLY because they pay out nice affiliate referrals!
That bugged me in the past, but recently I decided to give them another shot and went through a new set-up.
Their pain-free WordPress installation, staging area(!), and user experience blew me away.
When you sign up for a new account–they will start to install WordPress for you. This is particularly valuable if you're new and have zero experience in cPanel, website backend settings, etc!
I truly believe Bluehost is the host if you're just learning how to start and grow a blog.
Final Note: Ask 100 bloggers using 100 different hosting providers, and you'll get 110 examples of issues/problems they've experienced across ALL hosts. No provider is perfect.
So yes, I heartily recommend selecting the smallest Bluehost shared hosting plan, getting a free domain, and then BLOGGING.
Go.
FAQ: How do you start a blog for free?
There are several, but I only recommend three:
WordPress.com (It's a slightly different software that "self-hosted" WordPress, which is what we'll cover below)
You WILL NOT get a custom domain with free blogs–you'll have .wordpress or .blogger on the end of your url.
Example: www.yourblogtitle.wordpress.com
If you don't care about themes and just want to write today and have it published, go with Medium! If you want a bit more control over the design, go with a free WordPress.com blog.
The first 3 steps to start a blog:
1 – You need to have a domain picked out that is available.
Make sure it's readable, sayable, type-able, short, explains what your blog is about, and makes you happy.
2 – You need to choose a platform
Go the "self-hosted WordPress" route, which means installing WordPress software on your 3rd-party hosting package.
3 – Decide on a hosting package.
Again, Siteground is what I use and suggest for experienced bloggers. For newer bloggers, you can't do better than Bluehost. It's affordable, includes a FREE domain, and the WordPress installation literally takes one click. It's fantastic.
Click here to navigate back to the Table of Contents
---
How to Set-up and Customize a WordPress Blog Start to Finish.
Here's what we'll be going through:
Setting up your hosting account and installing WordPress
A full tour of WordPress
How to choose, design, and customize a theme
Essential WordPress plugins
How to set up Google Analytics
Setting up Your Hosting Account and Installing WordPress
For this tutorial, I purchased a brand new domain to use as an example–blogwire.co!
Below is a video that walks through this step-by-step.
1 – Head to Bluehost and click "get started" on the homepage.
Choose the basic hosting package. You DON'T need those extra features right now! You can always upgrade later 😉
Then, enter your domain name you found already.
2 – Enter your contact details and select extras.
Enter your info, but CHANGE some of the pre-selected extras.
YOU DON'T NEED THESE.
The only one you MIGHT want to grab is the $0.99/month domain privacy protection. This will simply hide your name and address in the domain database records (which is public information).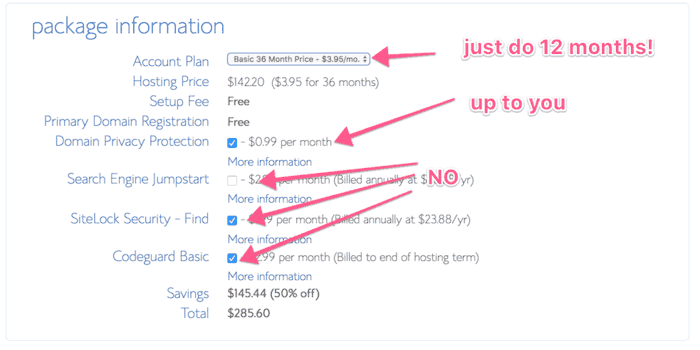 Other than that, just pay for 12 months. It's worth sacrificing the $1/month for a cheaper upfront payment.
3 – Enter CC information and pay.
THAT'S IT.
Bluehost will take care of pretty much everything else.
You'll be directed to your Bluehost dashboard
Bluehost will install your domain and WordPress software.
They'll also hook you up with a temporary domain and log-in so you can get started on your site!
They'll send you an email with some advanced information. File it away in case you need it in the future.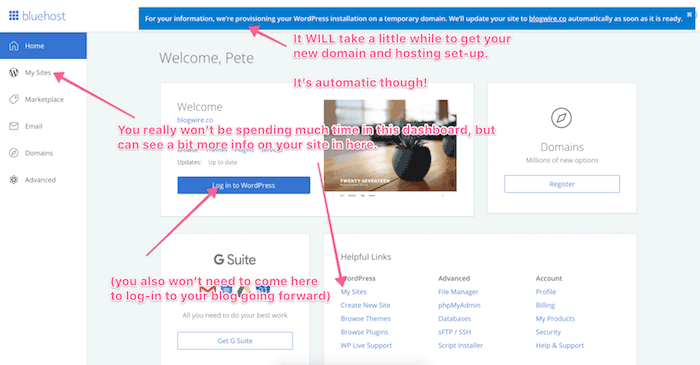 FAQ – Where Do I Log-in to My WordPress Blog?
You don't need your BlueHost dashboard to log-in to your WordPress dashboard–but rather navigate to yourblogurl.com/wp-admin.
I'd suggest adding it as a bookmark. I've got doyouevenblog.com/wp-admin on my bookmarks bar.
Important Note: It will take Bluehost a few hours to get your site set-up, but they'll give you a temporary domain name in the meantime. Be patient.
Important: Change Your WordPress Password!
Click "log in to WordPress" in your Bluehost dashboard.
You should be automatically in your dashboard, at which point you'll go to the top-right corner and hover over "admin."
From there, you can click to update your email and scroll down and click "generate password."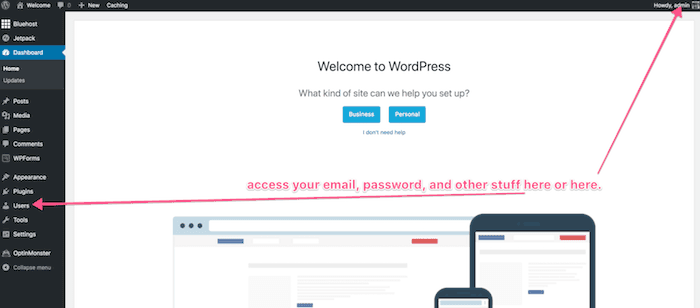 NOW you should be able to log-in the normal way to your WordPress dashboard.
(Note: At first, you'll probably be redirected to your temp domain site until BH finishes your install)
FAQ: What's This cPanel Thing I Keep Hearing About?
cPanel is a separate dashboard that most hosting providers use, and is what you use to access the actual files of your website, set up email addresses for your domain name, and much more.
If you're going with another host like Namecheap or Siteground, you'll use cPanel to install WordPress!
You can also access cPanel settings in BlueHost if you ever need to, by clicking "advanced" on the left menu in your BlueHost dashboard. 🙂
A Full Tour of WordPress
First, know this: If you're new, you WILL get overwhelmed and frustrated at some point. 100%.
WordPress is like riding a bike. You only have to learn it once.
Also, here's a FULL video tour around the WordPress dashboard.
The WordPress Dashboard: What You Need to Know:
Your blog name at the top – This will take you to your homepage! (Once you're there, the same button will take you back to the dashboard)
Posts – Here is where you create and publish new blog posts, view all published posts, and manage blog categories.
Podcast – You won't see this on YOUR dashboard, but this is an important point: The side menu in the dashboard will eventually show the settings for various plugins 🙂
Links – Ignore this. You might not ever click this.
Pages – Similar to posts, here's where you create and manage your pages, such as "About Us" or "Start Here" or "Contact," etc.
Comments – When people comment on your posts, they'll show up here for you to approve, deny, mark as spam, reply to, etc.
Appearance – Where you customize the look of your site, your theme, and menus. More on this in a below.
Plugins – Plugins are little add-ons to the WordPress system that perform various functions. We'll dedicate an entire section to these below.
Settings – Controls broad settings for your website. We'll dive in here in a second.
We're about to go into way more detail to the important ones above 🙂
How to Choose, Design, and Customize Your WordPress Theme
Please start simple!
If you have no WordPress or HTML/CSS experience, stick with a WP theme you don't have to customize a lot.
There are 1,000,000,000 themes on the internet, and it can be tricky to find one you're happy with AND is affordable.
Here's How to Find and Install Free Themes
Head to WP Dashboard – Appearance – Themes and click "Add New"
ALL these themes will be free–but be warned, some might include limited features and want you to pay for a "premium" version of the theme.
:-/
If you do find one you like here, simply click "Install," and once that's done, you'll see a button for "activate."
Click it, and your theme is technically installed (though it'll look terrible, as you haven't customized it yet).
FAQ: What do I NEED from a WP theme?
It needs to be mobile friendly! Most themes will say whether it is or not in the description.
You need to be satisfied with it (even though it WON'T be perfect)–so you can START asap.
You need the ability to quickly get up and running. Simple or "minimal" themes are best for this.
Pro tip for beginners: When choosing a theme, look for one where the preview contains a lot of white space and looks LESS fancy. These themes are generally easier to get set up.
You'll add more complicated stuff later, but it's wise to START with something simple and minimal.
FAQ: Where can I find more awesome free themes?
Here are a few posts with great recommendations:
How are those "default" themes that are automatically in my dashboard when I install WordPress?
WordPress makes a new "default" theme each year, and they are AMAZING.
They are simple, easy to get started on and offer the latest features. More new bloggers should use them.
The Best and Most Affordable Paid WordPress Themes
I use paid themes these days, for two reasons:
I have money to spend on them. (If you don't, don't!)
They come better "out of the box," meaning I have to do less customization.
Here's my huge tip for purchasing PAID themes: do NOT buy from theme "marketplaces" that sell thousands of different designer's themes. DO buy straight from theme design companies.
The quality will be better, and their support will be WAY better.
FAQ: Do you recommend Drag-n-Drop "page-builder" themes like Divi?
No, I do NOT.
Drag-n-drop might seem nice, but those themes and frameworks create an absolutely MESS of code you can't see–making it almost impossible to use any OTHER theme in the future.
I DO recommend drag-n-drop plugins, however, like Elementor. This will allow you to create drag-n-drop sections or specific pages, without taking over your entire WordPress blog.
Here are my two favorite designers for paid themes:
StudioPress – This firm makes amazing themes built on the Genesis framework. The theme you're reading right now is from them, and it cost me less than $100.
Elma Studio – Ellen is an amazing theme designer, and you can literally get ALL of her WP themes for like $50. That's over 20 different themes. And they're amazing.
FAQ: How do I install 3rd party WordPress themes?If you purchase or otherwise grab themes from around the internet, you'll be downloading the theme in a zip file format.
Installing is easy, and there's no need to extract the zip file–just click "upload theme" in the "add new" theme dashboard.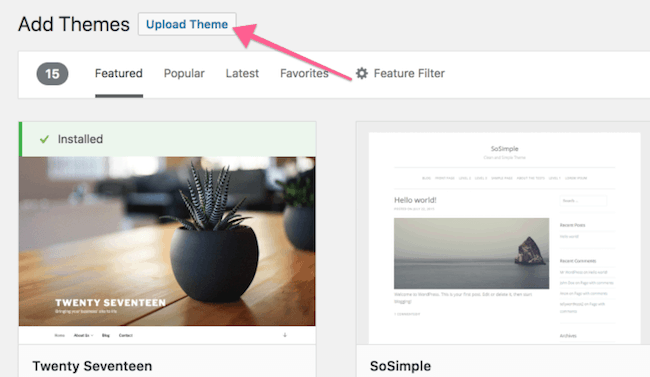 Customizing Your Theme
Bad news – Every theme is WAY different, so you'll have to figure a lot of it out for yourself 🙁 🙁
Good news – You hopefully only have to do this process once, then you can focus on, ya know, blogging.
Head here under your WP Dashboard – Appearance – Customize.
That will bring up the live customizer:
This is where you'll shape most of the look and feel of your blog theme.
Pro Tip – START by creating a dummy post and a few dummy pages (delete them later) so you'll have something on your site when you're messing around with the design!
You'll be diving through this section in the first month of blogging, and it's important to remember you WILL get frustrated at some point 🙂
It's a learning experience!
If this is your first day in WordPress, and you have installed a random theme you saw and liked…here's what you should do today:Site Identity
This is important. If it's not in there already…add the name of your site under site title, and an optional tagline.
Don't bother with the site icon for now (though if you already HAVE a logo, great. Resize it to 512×512 pixels and upload it there.
Menu & Homepage Settings
We'll be covering this below in the "how to create posts and pages" section 🙂
Widgets
Go ahead and play around with the widgets. You'll see a bunch of random things to choose from that won't mean much right now.
As you start to add content, build an email list, and install plugins, you'll figure out which widgets you should put where.
Feel free to play around with whatever other settings your theme has–but do try to keep it simple! Don't spend days and weeks here.
Get it 95%, then start blogging.
Essential and Free WordPress Plugins
You can't start a blog without plugins. Period.
WordPress Plugins are "add-on" pieces of software that are NOT theme-specific and serve a HUGE variety of purposes. There are plugins to help with
email marketing
images
comments
design
backing up your site
tons more.
There are 2 ways to install plugins:
Search, install and activate via the WordPress plugin dashboard
Upload manually from the same dashboard
Similar to uploading themes, you can download plugins from 3rd parties and upload them in ZIP format.
1 – Go to "plugins" in your WP Dashboard, this will show all your installed plugins!
3 – Click on "add new" at the top of that dashboard screen.
4 – This is the search function! From here you can search and browse plugins.
5 – To install, click "install now," BUT YOU'RE NOT DONE YET. That button will eventually be replaced by an "Activate" button–you'll need to press that too.
6 – For plugins you've downloaded from 3rd parties, the "upload plugin" button is at the top.
MANDATORY Plugins:
Note: ALL of these are available today, for free, searchable right from the WordPress plugins dashboard!
Google Analytics Dashboard for WP (GADWP)
We'll use this plugin to connect our Google Analytics account (see below), allowing us to access blogging stats!
The most widely used SEO plugin on the internet, and it's insanely easy to set up and use.
All I can tell you right now is that you want your blog to be load really, really fast on people's computers. You do. And this plugin will help.
UpdraftPlus WordPress Backup Plugin
What if you screw things up on the technical end and lose your entire blog? What if hackers destroy everything? Backups act as your safety net. This is the best free plugin for this.
They have paid plans, but the free version is great too. Sumo is going to help you get traffic, followers, fans, and email subscribers!
FAQ: Do I need to know how to USE these right now? NO. We'll be covering some of these below! For now, just find them and install them.
Non-Mandatory-but-Still-Handy Plugins Depending on How You Blog:
Over the first several months of blogging, you'll end up installing 5-10 more plugins probably, as you discover more of your needs.
Pretty Links – Turns ugly affiliate marketing links into pretty ones 🙂
Elementor – The best "page builder" plugin, as it's open source, their free version is great, and the PRO version is only $49 for a lifetime, which is a steal.
AddToAny Share Buttons – If you don't use Sumo, you'll need another way to add share buttons to your content!
Additional Resources: Here is my list of blogging tools I use every day!
How to Set up Google Analytics
Why should we do this NOW?
You will want to see historical data, even if you don't use Google Analytics (GA) for the next 6 months.
Bloggers LOVE to obsess over website traffic. You might even find yourself constantly logging into GA and checking your stats.
HOWEVER:
Blog Traffic is NOT a measure of your self-worth as a blogger and is additionally a USELESS blog metric on its own.
It's a metric you'll eventually use to figure out what's working, and what types of content your audience enjoys best.
But to do that, you need it installed ASAP.
Sign up for an analytics account here (it's free)
Once you sign in to your Google account, you'll be shuffled through set-up questions.
You'll want to create your first "property," i.e. "website."
Your dashboard can be overwhelming, but you don't have to do much here!
Once you've added your first property, you're done in Google Analytics, but you still have to go back to WordPress, and into the Google Analytics Dashboard for WordPress plugin we installed…
Go click on "Google Analytics" item on your dashboard (on the left towards the bottom probably).
Click "authorize plugin"
Click "Get access code"
You might have to click "allow" on the next screen, else COPY the code and go back to your WP dashboard
Enter the code
Click "save access code."
That's it.
Google Analytics should be installed and running correctly.
Click here to navigate back to the Table of Contents
---
A Beginner's Guide to Creating Blog Content
Here's where most "how to start a blog" posts fail:
Getting your blog installed up and running is the easy part–it's the creating content and marketing part that's hard!
Read on, blogger.
How to Create Pages, Write Blog Posts, and Create Menus
It's helpful to create a few sample posts and pages, (you can delete them later), so you'll have SOMETHING on your site when looking at themes.
FAQ – What's the difference between posts and pages? Pages are thought to be static and NOT attached to any particular date in time. Posts are dated and will show up in your "blogroll" (more on that in a second).
Here's a basic tour of publishing a post.
And here's the "all posts" dashboard:
Pages are similar, but often have different features depending on your theme.
At this point, I'd suggest you create:
an about page
a BLANK page named "blog." You'll see why in a minute.
a BLANK page named "home." Write 1 or 2 paragraphs explaining what your blog is.
Then create your first menu:
You can add the pages you created, individual posts, categories, or custom links to the menu.
NOTE: You'll still need to DISPLAY your menu once you've created it. You can do this under the WordPress Customizer, simply selecting the menu you just named and created.
Static vs Blogroll: Which Should I Choose for the Home Page of My Blog?
Blogroll = Shows your blog posts on the home page, beginning with the most recent.
Static page = Shows a welcome page of sorts as your homepage (you can choose to show any of your WordPress pages).
Remember when we created pages named "home" and "blog," and left them blank? This is why.
Feel free to assign your "home" and "blog" pages you created to see what it does.
There's no right answer, but if you're just starting out, I'd recommend sticking with the blogroll 🙂
You Must Optimize the 2 Most Important Pages of Your Site
Note: You should optimize ALL your blog posts and pages around your goal.
Is your goal to sell e-commerce products? Or to get people on your email list?
EVERYTHING on your site should be designed to funnel people to this goal.
That said…
Over time, your home and about pages will be the most visited pages on your entire site.
A good home page might have a:
Logo and/or name.
Menu.
Way to follow (opt-in and/or social follow)
Links to your best or most recent content
A GREAT home (and about) page will have all the above, AND the following:
WHAT is this site about?
WHY should I follow this person (as opposed to other bloggers in your niche!)
WHAT is in it for me? (Or what is this blog going to do for ME)
Where should you put this?
"Static" homepage? use whatever widgets or plugins your theme has…and put it anywhere you can.
Blogroll? Put it up top in the sidebar! (With your opt-in right underneath it)
Your home and about pages exist to sell people on why they should follow YOU and reinforce what they'll be learning on your blog.
Tell your personal story. Reinforce your blog's mission.
Show people what your site is about, why they should follow you, and what's in it for them to stick around 🙂
FAQ: How Do I Come up With Blog Post Topic Ideas?
Blogging pro tip: Do this activity in BULK!
Spend an hour a month JUST coming up with topics you'd like to write about.
Here are a few tips:
Ask yourself "what do I REALLY want to say right now?"
or "What NEEDS to be said right now in my niche?"
Go to other blogs in your niche. What topics are they covering? What are they NOT covering?
Search for a broad keyword in Pinterest (i.e. "travel") and look at the subtopics that pop up. People are searching for content based on those keywords!
Start typing into Google, and look at the "suggested searches" that pop up. You might uncover some topic ideas there.
How To "Produce Good Content" (You'll Hear This A Lot From Other Bloggers)
What the does that really mean though? And how do we translate that into action?
Bad news: This is something you'll ultimately have to figure out on your own…and it takes time.
Are you brand-spanking new? Read this:
When you first start out, your writing and/or content is going to stink.
Sorry, but that's the truth. (If you're thinking "NOT ME COMPADRE," I wouldn't blame you)
The more you write and produce content…the better you get at it! (learn how to develop a strong writing habit from my friend Brendan's post here)
It takes time. Prepare mentally for that.
Your content will be "good" when it serves your blog's purpose and accomplishes your goals.
That said, here are a few questions that'll help you create better content:
Is it well-written?
Are there typos or poor grammar? Is the prose readable and conversational?
Is it formatted correctly?
Are there enough line breaks, images, and sub-headers to make it easy to digest and/or skim?
NOBODY likes "walls of text"
Do you have an enticing intro and headline?
It doesn't matter how good your content is if nobody clicks through your headline! Click here to learn how to produce awesome headlines using a headline analyzer.
Are your facts straight? Are your examples/metaphors relevant?
Put another way, do you actually know what you're talking about? (Important if you're trying to teach something).
Does it present a unique take?
Do you present any original ideas, stories, or theories, or is everything basically found elsewhere on the internet?
Have you infused passion, opinions, or idealism into the content?
Do you have something to say?
Are there share buttons?
THERE MUST BE SHARE BUTTONS.
Is it a good fit for your audience?
Will it connect with (or attract) your target reader?
It is something people want or need?
Be honest, does anybody want to read this? (If so, who and where do they hang out online? #marketing)
Remember: the quality of your content will improve over time, and the growth is directly related to how much "practice" you get. Write a lot!
---
How to Drive Blog Traffic – Beginner Basics
So what's the goal?
To drive traffic to your blog, which you will convert into regular readers, loyal fans, and buyers.
How Do I Get People to My Site?
All over the internet (external), and your own site (internal).
External = all social media, search engines, and other people websites (blogs, news outlets, anything).
Internal = A HUGE percentage of your page views will come from people already on your site. We call this internal linking, and we'll talk about when we hit SEO specifically.
What are the best social media channels to promote my blog?
It depends on which channels you know, which ones your readers hang out on, and which end up proving themselves as effective.
That's a non-answer, but that's the truth.
Crappy answer Pete. Just tell me…what are some of the 'best' traffic drivers?
Google (best)
Pinterest (best)
Twitter (good)
Facebook (good)
Google and Pinterest were CREATED to drive traffic to blogs. That's literally their entire business model.
On the contrary, ALL social media channels were designed to keep you on their platform.
They do not have any incentive to get people to your blog.
How to Get Traffic From Pinterest
FYI, I have a separate Pinterest Traffic email course, which is delivered over 6 days and can be found at the bottom of this post.
Here's how to get started:
Create a Pinterest business account.
Set up your name and bio. (using niche keywords if you can!)
Create 15-20 boards based on keywords!
Fill up your boards with other people's content. (Make sure you're pinning GOOD and RELEVANT content! It matters!
Pro tip: How to find Pinterest keywords:
Go to the top search bar on Pinterest, and search for something around your niche.
The suggestions that pop up are what other users are searching for!
Group Boards 101
You'll want to join relevant group boards ASAP, and start pinning to those!
If you started an account today, you'd have zero followers. If you manage to get on a group board with 10,000 followers, you could pin there.
Quite powerful.
If you're wondering how to get on group boards, read this post.
This will take a long time, but once you're on, start pinning regularly to those you get accepted to, following all the board rules!
Using Tailwind will help you automate the process, and also give you analytics to see which boards perform, and which don't!
How to Make Pins That Stand Out
The way your pins look is IMPORTANT.
They need to
Stand out
Grab attention
Entice people to click
Also, click-bait-ish titles work on Pinterest. That's the sad truth.
What's the perfect pin size?
There isn't one, but the image size people recommend is also changing constantly. (Many say 600px wide by 900px tall).
As of May 2018, I'm creating 600px wide by 1,250px tall. It's working well for me 🙂
What should my Pin description say?
Has WIIFM (what's in it for me?)
200-300 characters
Includes keywords
Has CTA (call to action)
Driving traffic from Pinterest is a game of applying to as many group boards as you can, and pinning bright, bold, click-bait pins to them repeatedly!
It's up to YOU to decide if spending time on Pinterest is worth it or not.
Blog SEO for Beginners
Note: You are absolutely NOT going to learn SEO from this post alone.
Entire blogs and careers are dedicated to SEO, but we're going to hit
SEO frequently asked questions
The basics of new blogger SEO
Further resources!
Beginner SEO FAQs:
What is SEO?
Search Engine Optimization = strategies designed to get your blog listed in Google search results (or other search engines).
Is SEO a viable strategy for beginners?
Yes and no.
It takes a while for Google to start seeing your blog as relevant and authoritative on your topic! It can be slow going….but YES, today is when to start, despite the fact that you might not see results for 6 months or more.
What is a SERP?
SERP = Marketing lingo for Search Engine Results Page (I.e. literally what you see if you Google something)
What do I DO for SEO?
This can be broken down into 2 broad parts:
On-site SEO (You have 100% control over this)
Off-site SEO (Namely, backlinks! You have less control)
The Basics of New Blogger SEO:
Here's what you have direct control over:
Site structure (telling Google what your site is about)
Site optimization (making pages and posts mobile friendly and fast loading!)
Your content (making your content satisfy "user intent.")
User Intent = What Google searchers really want and need to find when they enter a search query.
Google's business model is built on MATCHING the right content to their users' intent.
We won't go into the crazy algorithms…but if YOUR blog post focused on [XYZ] keyword is actually the best thing on the internet for the search term–theoretically, it should rank #1 in Google.
That's the mindset of an SEO expert: Try to produce the best possible piece of content (and make sure Google sees it as such) for the given user intent.
What are backlinks, and are they important for SEO?
Backlinks are crucial for ranking in Google!
The idea = if a relevant and authoritative website links back to your content, Google looks at that like "Woah! This must be good! Some other trustworthy website thinks so at least!"
If I'm trying to rank for the search term "best personal finance tips for millennial" and CNN Money, a highly-relevant and established site in my niche, links back to my article…Google gives me some "link juice" (SEO lingo for "strong backlink"), and I might end up ranking higher on the SERP.
How do you get backlinks?
1 – You produce content worthy of linking back to.
Not quite the answer you wanted to hear, right? The fact is, nobody wants to link to and share crappy content, so do your best to produce excellent content! You WILL find people linking to it over time.
2 – You ask other bloggers for backlinks.
I'm not a huge fan of this, but some are. Read Brian Dean's link building guide for more info!
If you're still learning how to start a blog, here are the first steps to an SEO strategy:
Choose a mobile-friendly theme!
Install the free Yoast WP plugin
Take care of your site title and description for SEO purposes
Set-up some initial categories
Start blogging.
1 – Choose a mobile-friendly theme!
Make sure your theme is mobile friendly by using Google's own mobile test here.
2 – Install Yoast
We already talked about this, but install it if you haven't already. Here's how to use Yoast.
3 – Create blog categories in WordPress.
Take your broad topic (travel, personal finance, parenting, gardening)…and create 5-10 sub-topics.
We use categories to tell Google what your site is about!
Example: Here are some brainstormed categories for a gardening blog:
Go ahead and create these in WordPress, even if you don't have content yet!
Name – Make it descriptive! "Tips" is bad. "Dog Grooming Tips" is better.
Slug – The name in all lowercase and with hyphens in there ("dog-grooming-tips")
Description – Write 2-5 sentences explaining what the category is about
FAQ: How long will it take me to rank in Google?
Ranking your content for any search keywords depends on 3 things:
How authoritative and established your blog is.
The difficulty of the keywords you're trying to rank for.
How good your content is.
#1 takes a while. If you're experienced with SEO, you could probably rank for easy keywords in 3-6 months.
If you're a new blogger, expect to spend 9-18 months working your way into Google!
But don't get overwhelmed! Take it slow and start blogging today with the tips above.
You'll figure out the rest as you go along, I promise.
SEO Further Resources:
If you're a new blogger, focus on the tips above and start blogging consistently. After a month or two, Check out Moz.com's Beginner Guide to SEO.
If you're looking for advanced SEO tutorials…
Check out this Yoast article on site structure
Sign-up for Blogger U and go through the SEO courses.

Blog Traffic From Twitter, Facebook, LinkedIn, and More
Google and Pinterest were specifically meant to drive traffic to blogs.
Everywhere else?
Not so much…
Social media channels were not designed to send people to your blog. They're designed to keep people on THEIR SITE.
Facebook wants to keep you on Facebook and will do everything in their power to keep you on Facebook.
Any "tactics" or "strategies" we talk about is technically using these platforms for ways in which they are UNINTENDED to function.
How Do I Know Which Social Channels Will Work for Me?
Simple. Where does your audience hang out?
Is your target reader on Pinterest all day? Or Reddit?
It's crucial you target the websites and social platforms that your readers are actually using!
Twitter Traffic
For some niches (blogging, personal finance, travel), Twitter is a GREAT place to start connecting with people and also drive traffic.
How to get started:
Head to Twitter, sign up for an account, and start following other bloggers and people in your niche.
Some will follow you back, some won't….but the MORE you engage, the better chances you have of connecting with people and ultimately driving traffic.
It'll take a while though.
Where to find out more: How to Use Twitter to Drive More Traffic to Your Blog : Social Media Examiner
Facebook Traffic
As of early 2018, Facebook changed their algorithms to favor pages LESS.
What does that mean for us?
Facebook groups are probably more beneficial to us than having a page for our blog.
Facebook Ads are where it's at.
If you're looking to post on Facebook and drive traffic to your blog…it's largely "pay to play," meaning you'll have to run paid Facebook ads–but you're welcome to create a page and start posting regularly.
You'll get a small trickle of traffic, but it's not going to make or break your blog traffic.
Check out this post and interview to learn more about driving traffic with Facebook ads.
LinkedIn Traffic
This could be a source of traffic….IF AND ONLY IF your blog is about something business or career-related 🙂
Also, it's important to use "the language of the platform" when marketing on LinkedIn.
For example, when I share one of my blogger podcast interviews on LinkedIn, I tend to use the terms "market," "content marketing," or "digital marketing," rather than "blogging."
Where to learn more: 8 Ways to Get More Traffic from LinkedIn – Sumo
Reddit, Instagram, and Forums
If you're not a regular Reddit user and hope to use it in some way to drive traffic, forget about that right now. Focus on something else.
Instagram is not meant to drive blog traffic.
It's a great platform to build a following (and brand), but you won't ever drive massive traffic organically.
Also, niche forums can be a great way to connect with would-be readers and other content producers.
Pro Tip: You'll need to be considered an "insider" in any community—BEFORE you start posting links to your own site.
Don't just go joining random communities and start posting links. That will not work.
Blog Marketing 101 – Start a "hitlist"
Once you work for a few hours on a blog post and hit "publish," the LAST thing you'll want to do is spend more time promoting it.
So why not make it easy on yourself?
Objective: Create a standard checklist of ALL promotional duties you should do after you hit publish for post.
Grab a piece of paper (or open a Google Doc)
Write out every social profile you promote each post on.
Print it out and USE IT every time you publish
Example:
Make blog marketing easy on yourself!
Click here to navigate back to the Table of Contents
---
An Email List-Building Tutorial for New Bloggers
Sending an email newsletter will be your most effective marketing platform!
When you post to Twitter, Facebook, Pinterest….your content MIGHT be shown to your followers.
With an email list, there's a 100% chance your followers will see you emailed them (assuming your email didn't go to the spam folder).
Here's a beginner-friendly broad overview of email list-building.
Sign up for an email service provider (ESP) like ConvertKit, Mailchimp, or Drip (there are dozens of others).
Install an opt-in form on your website
Convince people to join – Via a freebie (lead magnet, content upgrade), by running a giveaway, or just asking them.
You will "date" your list. (more below)
How to Get Your First 100 Email Subscribers
Email guru Bryan Harris says to do this BEFORE worrying about an email tool or opt-ins.
Call, text, and FB message your friends and family and ask them.
Use the template below (but PLEASE customize a bit)
Write down their emails on a piece of paper. Upload them to your email service later.
They don't even need to be specifically interested in your topic.
Think of this group of people as your jumping off point. Something to get the ball rolling.
Send them something completely honest, like…
Hey [name]!
So I've recently started a blog about [your topic], because [reason you're doing this].
I thought it might be something you'd be interested in (or at the very least able to support me on). Can I include you in the first newsletter?
–your name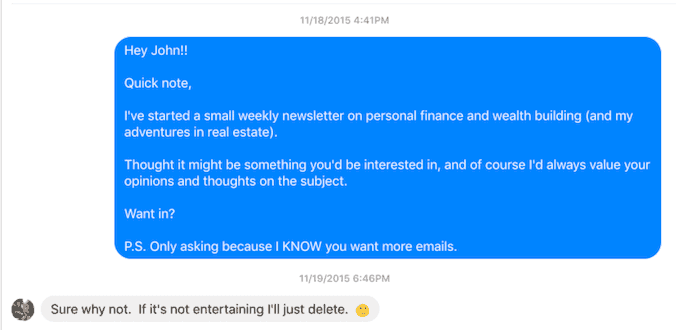 You're not trying to CON your friends into caring about your blog–you're trying to get your first bit of support.
How to Technically Setup an Email List
First off, there are the only two ESPs I recommend for bloggers with under 1,000 subscribers: Mailchimp and ConvertKit.
On a budget? Use Mailchimp. It's free up to 2k subs
Ok to pay $29/mo and want the BEST? ConvertKit.
1 – Create your account (this tutorial uses ConvertKit, but Mailchimp is similar)
2 – Create a form
(Mailchimp users will create a new "list")
Click "create form"
Edit the copywriting (keep it simple for now!)
Save the form.
Here's a help article if you're having trouble.
FAQ: Do I HAVE to enter my address to be included in every email footer? YES. It's the law! Most bloggers I know rent out a P.O. Box so they don't have to use their home address. I pay $30 a year for mine.
3 – Decide HOW you're going to embed forms on your site.
There are 2 options:
Use your email provider (i.e. ConvertKit)
Use a 3rd party opt-in tool and INTEGRATE with your email provider
For ConvertKit, use their forms! This is why they're awesome.
For MailChimp, use a 3rd party opt-in tool or form builder, such as this WordPress plugin.
4 – Embed your forms
If you're on WordPress, download the ConvertKit plugin, then you can copy/paste the "shortcodes" anywhere on your site.
With no plugin, you can copy/paste the embed code for each form wherever you can enter HTML 🙂
If you go the WP plugin route (and I think you should), you'll likely need your API keys. It's found in your account settings.
How Do I Convince People to Opt-in to My Newsletter?
"Subscribe here" doesn't do ANYTHING for anybody.
Here are a few proven ways to attract email subscribers:
The Freebie – A "bonus" piece of content you give away in exchange for somebody's email. It needs to be something your reader REALLY wants!
Bonus video, a PDF checklist, anything MORE THAN A SINGLE BLOG POST.
If the freebie isn't desirable enough, it's not going to attract emails. (see more below)
The "Purpose Ask" – Share the purpose of your newsletter and ask people to join.
Include 2-3 sentences on WHAT your emails cover and WHY they should join!
Example:
Be sure to join our infrequent newsletter, where we send out exclusive content you won't even find on the blog, as well as updates, deals, and other really useful content on [your topic].
Our emails don't stink 🙂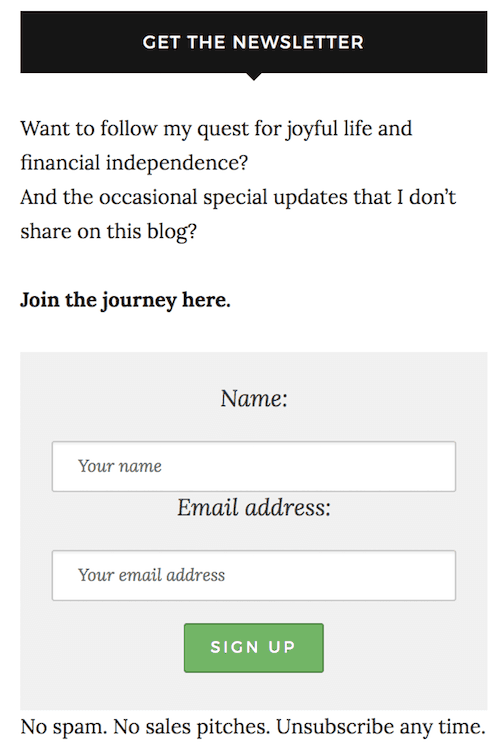 Want to learn more? Here are 20 email list-building strategies for beginners.
How to Create Your First Freebie
Here are some popular formats:
eBook (a PDF)
email course (through ConvertKit, etc)
Bonus video or audio content
A checklist they can print out
Anything downloadable–budget spreadsheet template? Marketing Hitlist? These are great because it's something they don't really get with a blog post.
A product that's usually paid–for free.
If you're new, go for the short (but effective) free email course, as you don't need to learn how to produce video or design a nice-looking ebook, etc.
ConvertKit? They're called sequences.
Mailchimp? They're under automations.
Do this:
Brainstorm 5 topics your audience cares about.
Choose 1 you feel the most confident teaching people about.
Outline how you'd teach it over 5-7 lectures.
Write it out for a 3-7 day email course.
Just make sure of one thing: Make it GOOD, and personal!
The more time and effort you put into making it good, the more likely people are to stick around to your email list….or even share it.
Example Freebie Brainstorm: Travel niche.
My audience might care about:
How to save money on hotels
How to find cheap flights
How to utilize credit cards for points/miles
A general "beginner's guide to travel hacking."
Top European cities to travel to, and how to get there cheaply.
I'll go with #2.
Outline:
The basics of why discounted flights exist
5 tools and sites to find cheap airfare
How to automate getting notified when these occur.
How to make reservations FAST when these occur.
That's it.
Don't worry about technical implementation yet. Don't worry about making it perfect.
Just try to make VALUABLE content for your audience. We'll work the rest out naturally over the course of blogging.
---
How to Start a Blog That Actually Makes Money
First, let me crush your dreams: making money from a blog is hard!
Don't let any blogger tell you differently.
If you're looking for a comprehensive HUGE resource on how to monetize a blog, check out this post.
It covers everything you could imagine.
FAQ: How do you become a blogger and get paid?
Blogs are monetized in a few different ways:
display ads on your site (and get paid when they're viewed or clicked).
promote other people's products on your site and get paid referral fees when your readers purchase them (affiliate marketing).
create your own physical or digital products.
freelance blogging services for other sites.
We'll cover all of these below!
A New Bloggers Guide to Affiliate Marketing
Promoting affiliate links is the #1 strategy to make money on the internet–only behind freelancing 🙂
What is affiliate marketing?
The process of promoting other people's products (usually through a special link given to you), and receiving a "referral commission" when somebody buys through your link.
Example:
I think ConvertKit is a fantastic product for bloggers, so I applied to their affiliate program.
They accepted me, and now I can share my "special URL." If anybody signs up through one of my links, I get 30% of everything you pay ConvertKit.

You pay CK $29 a month.
CK pays me $8.70 a month because I brought you to them in the first place!
CK keeps the rest.
How Do I Get Started in Affiliate Marketing?
Find products you want to promote
See if they HAVE an affiliate program
If so, apply to join
You'll get a "special link"
Share that link in your blog posts
Hope people click through and buy 🙂
There are 3 different places to find affiliates:
Amazon (see below)
Affiliate networks (see below)
Company-Specific platforms (such as ConvertKit)
Amazon allows you link to any product on Amazon and receive a small commission if the clicking person buys anything.
You can apply for the Amazon Associates program here.
Once approved, you'll have a new stripe at the top of your Amazon pages.
There are also several networks of companies that make finding affiliate products a breeze:
Once you have an account with any of these networks, you can search for products by category, and they also have a streamlined application process for each "vendor."
They work the same way, but it's for different companies outside the Amazon bubble.
FAQ: Do I Need Massive Traffic to Start Promoting Affiliate Links?
Massive? No. Some? Yes.
In order to make referrals, you'll need people clicking through the links and buying!
There are two ways to improve conversion rates:
Build more trust with your readers (so they'll know your recommendations are solid)
Build more traffic and clicks (the more clicks, the more likely someone will buy)
Important Note:
Only promote products that are a good fit for your audience, and that you ACTUALLY recommend.
Do you believe in your own recommendations? If not, DON'T PROMOTE.
Sacrificing reader trust is not worth the chance of the small commission.
Important: You Need a Disclaimer to Promote Affiliate Links!
Warning: I am not a lawyer, nor does this blog post provide actual legal advice. The following are just my tips and opinions.
The government has mandated we disclose that we're sharing affiliate links! This means
Creating a disclaimer page on your site
Linking to it in EVERY post you include affiliate links.
This article details how to create an affiliate link disclosure, and you can use a plugin like this one to display the notice.
Overwhelmed?
When you first start a blog, do this:
Sign up for the Amazon Affiliate program (only because it's easy and free)
Start blogging.
You'll find yourself naturally recommending products.
When that happens, do a quick Google search to see if that product has an affiliate program, and apply at that time!
Don't waste time applying to 18 programs before you have the audience in place to click on your links!
What About Putting Ads on Your Blog?
Ads require a lot of traffic!
When you first start a blog, you're going to make very little from ads. MAYBE $1-3 a month.
Given they also distract readers from your content, I'd suggest NOT showing ads until your traffic is over 20,000 page views a month.
Use Google Adsense then, and then switch to Mediavine once you hit 25,000 sessions a month. They pay more.
A New Bloggers Guide to Creating Your Own Products
Creating and launching your own products is WAY harder than affiliate marketing–but also potentially more lucrative.
What are some examples of products people create alongside their blog?
Ebook – just a PDF of content
Online course – selling content in a step-by-step format
Membership site
There are more, but those are the simple ones.
There's only one rule for creating your own products: It must be worth paying for. The format matters less than whether or not your audience WANTS the product.
Build products people ask for, and making sales will be 10x easier.
3 Real Example of Products I've Sold on This Blog
A 30-day blogging challenge.
My first product was a 30-day email course, prompting bloggers with challenges to grow their audience. 20 people purchased it for $1,600 gross.
Takeaway? The more you can build trust and respect from your audience, the easier it is to make sales.
Takeaway #2? Your first product might suck. Mine fell flat with those who bought, but it gave me a roadmap for making it better.
Blogger U
Blogger U is my flagship product (to this day), and is a membership community filled with multiple courses on SEO, Pinterest, Copywriting, Blogger Outreach–everything a blogger needs to learn to grow a blog.
Before I spent the time building the library of content, I pre-sold the product and made about $2,000.
Takeaway: Always validate products with your audience before you spend 1,000 hours building the product.
Most Productive Month Ever
This was a service where I called bloggers to check-in on their goals each week—and also give them encouragement and advice.
I charged $125 for the month and had 6 people buy-in for $750 total.
Takeaway? Get creative trying to answer the most important question: What does my audience need?
A Step-by-Step Formula for Creating Blogging Products
Step 1 – Have at least some small audience.
If you're a new blogger, you won't be holding six-figure product launches.
Step 2 – Brainstorm ideas for your product.
Here are a few questions to help:
What are other people in my niche selling?
What topics or sub-topics do my readers generally find more useful?
Where does your audience get stuck?
What "how to" subject could you teach that could NOT be covered in a single blog post?
Step 3 – Validate your product.
Repeat after me: I will validate a product's potential BEFORE I do the work of creating it.
So how do we validate product ideas?
We ask people to pay for them (buy) before the product even exists.
Sure, you could ask readers if they would buy your product, but nothing compares to actually asking for their money. That's when you know you have a viable idea, or a dud.
Step 4 – Build the product.
Step 5 – Launch the product.
I've already mapped out a simple product launch checklist you should read.
Go read that, and good luck!
If you're looking for more info on monetizing your blog, I'll refer you to this megapost.
Click here to navigate back to the Table of Contents
---
How to Survive Your First 12 Months as a New Blogger
At some point, every new blogger wants to quit during their first year.
"Winners never quit and quitters never win!" is terrible advice.
If nobody ever quit anything, we'd all still be working in the very first jobs we ever had.
Winners quit all the time, and without hesitation. The trick is knowing if you should persist or focus your time on something else.
If you truly discover the blogging is not for you, and you want to quit—do it.
Spend your time elsewhere.
How to Know When to Persist–or Quit Your Blog:
0-3 months
Do not quit. Period. Commit to at least 3 months.
3-6 months
You're past the technical frustrations and feeling comfortable producing content.
If you're feeling frustrated over…
not seeing the results you want – DO NOT QUIT
spending so much time on your blog – DO NOT QUIT. Do less blogging.
realizing you don't like any of this – QUIT ASAP.
6-12 months
This is when NOT seeing growth wears down your enthusiasm, motivation, and stamina.
It SUCKS.
Quit if you believe it's right, but I'd HIGHLY encourage you to focus more on the process, and less on the results.
This tough period is why I built Blogger U–to usher people through the other side to blog sustainability!
In blogging, success comes to those who love it and are willing to persist through the inevitable ups and downs.
Here's How to Make It Through the Tough Times:
Get connected and lean on others.
A blogger support network (friends and groups) will be the difference between success and blog mediocrity.
First, join the Do You Even Tribe Facebook group.
There will ALWAYS be a great group of bloggers willing to step up and help you with any problems you might be facing.
Next, email pete@doyouevenblog.com. I open every single email I receive.
If you're thinking about quitting but not sure, email me and I'll do my absolute best to help you make the right choice.
Last, when you're ready, join us in Blogger U.
The pricing is blogger-friendly, and there is a killer group of bloggers to befriend and work with!
---
52 Resources for Continuing Your Blogger Education
I've assembled a PDF with the following:
The best blogging tools
The ultimate list of WordPress Plugins
My all-time favorite bloggers to learn from
The best blogging freebies I've seen
My favorite 4 blog posts to learn blogging
Top free courses
Top paid courses
A ONE-TIME discount to Blogger U 🙂
---
Do You Have Questions? Please Ask in the Comments!
If you don't have any questions, feel free to comment anyways–I love hearing from you all 🙂