Below is NOT a huge list filled with every blogging tool under the sun…
Even though I HAVE tried virtually every product out there ?
These are the battle-tested solutions I use daily for my blog & business.
Important note…
NONE of these companies reached out to me to get featured here, and I'm more than comfortable using my affiliate links!
I stand behind these blog tools 1,000%.
Which blogging platform should I blog on?
The absolutely ultimate beginner blogging tool.
WordPress is the actual software that powers this blog, as well as something like 33% of the entire internet!
It is by far the best choice for bloggers, over competitors like…
Wix
Weebly
Squarespace
Joomla?
It offers far more customization (even if that DOES come with a learning curve at first), and comes loaded with the most power.
There's a reason WordPress is dang-near a household name. They're awesome. Use it. If you're truly new hear and want to learn how to set WordPress UP, check out the beginner guide to starting a blog. It's also free.
If you want 100% free blogging, you can blog on Medium.com or WordPress.com site.
The downside is that these limit what you can do with your site! Far less customization.
Tools for Creating Domain Names and Finding Their Availability.
Just start typing domain name ideas in–and watch the availability pop up!
NOTE: If you click any of the available domains, you'll be triggering an affiliate link for Instant Domain Search, and it'll take you to Godaddy!
I recommend purchasing domains through either Godaddy or Namecheap–even if you're using another provider for hosting!
Other cool domain name tools:
DYEB Pro Tip: I really, really, really suggest finding a domain with an available .com, as long as it's easy to pronounce, spell, and say!!
WordPress Hosting tools
They have my recommendation–for new bloggers especially.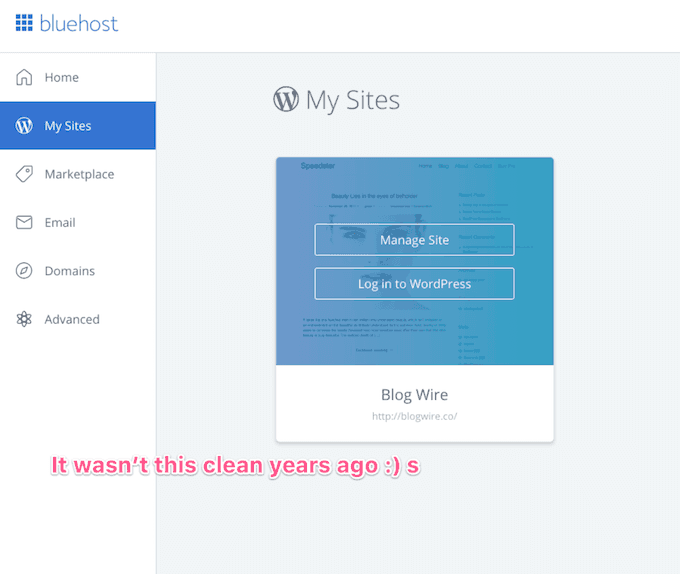 That said, here is my affiliate link to Bluehost. I'm happy to promote it.
I personally use Siteground, based on the recommendation of many blogger friends.
I initially switched to Siteground when my traffic ramped up enough to cause Godaddy issues.
Website down = Pete moves his website.
Siteground has been incredibly stable, fast loading, and they offered a free website migration, which might actually be the best decision I've ever made.
If your blog is moving past the 10k-30k views/mo mark, I recommend them, despite the slight cost increase compared to Bluehost and Namecheap.
Namecheap (for domains)
Namecheap is still my go-to for buying domains, and probably always will be. They're affordable, easy to set-up, and I've never encountered a single problem with their customer service.
I also have a few blogs hosted on Namecheap, and LOVE how easy it is to install SSL certificates on their platform. They make it easy!
Image and Graphic Design Tools
What's the Best Graphics Editors for Creating Featured Images, Pins, Etc?
I have used Canva, PicMonkey, and more–and I keep coming back to Snappa.
Some features (the last of which is by far my favorite)
User-friendly UI
Great selection of fonts and access to custom colors
WAY better layout guides, snapping, and layer functionality than any other tool I've tried.
Auto-resizing (need to create Pinterest, Twitter, and FB graphics at the same time? Done).
The built-in stock photo library in Snappa is far superior to Canvas!
Snappa's main competitor, Canva is by FAR the most used graphic design and image tool for bloggers.
There are fantastic features there, but I get annoyed at the paid images (if you start using Canva, you'll know what I'm talking about), and therefore don't enjoy it as much as Snappa.
However, it is powerful for creating featured images, Pinterest images, etc. Definitely worth checking out.
Sketch – A NON-browser-based tool ($99)
This tool is a bit more advanced, as it was created with professional designers in mind. However, I've found the user interface pretty easy to navigate, especially with their MANY tutorials on the Sketch website.
This is what I use for logos, pins, and other advanced graphics that need a bit more customization than I can get with Snappa.
Where Can I Find Great Stock Photos for My Blog?
There are a metric ton of stock photo sites, but here are my recommendations:
This is my go-to for pretty much everything. The variety is a bit more than average, and it's 100% free.
All The Free Stock (free)
What if there was a way to search several stock photo sites at once?
That's what this site does. It can be a bit tricky to navigate (click "multi-site search" on the left menu), but if I can't find it on Pexels, I'll generally come here next.
What Are the Best Tools for Compressing Images?
In your blogging tool arsenal, you NEED a tool to compress those fancy images you're creating.
This is important for SEO, as uncompressed images slow down your site!
These also fall under the WordPress site speed optimization discussion.
This is what I use to compress images these days, as it saves a TON of time compared to the manual upload/download/upload process of using a browser-based compressor.
To use Short Pixel, you
install and activate the plugin
drag-n-drop images to WordPress like you always do
That's it.
Short Pixel automatically compresses your images to be speedy, and it can even auto-resize large images as well.
Lastly, it's cheap.
You can get up to 100 images/month for free, and you can also avoid monthly commitments and just pay in bulk (I bought 10,000 images for $10. That's insanely awesome).
Compressor.io browser-based image compression (FREE)
Drag your image in, it compresses it and gives you a download link.
Not as simple as a WordPress plugin compressor like ShortPixel, but still easy and free.
SEO tools (Search Engine Optimization software)
There are several different functions for these tools!
On-page SEO plugin
Keyword & competitor research
SERP tracking
SEO audit tools
WordPress Plugins for on-page SEO
I use it. Everyone uses it. You should too. It's awesome for on-page SEO. 'Nuff said? Nuff said.
Keyword research and/or competitor tools
It's expensive, but absolutely amazing for serious SEO bloggers.
keyword research
content planning
backlink analysis
SERP tracking
Site audit tools
way more
Google Keyword Planner (Free)
There are LOADS of SEO tools out there for keyword research, Google competition analysis, etc. Moz, Ahrefs, Market Samuria, Keyword.io…all these are great (but most are expensive).
Google's keyword tool is the top blogging tools for beginners. It's free, (fairly) easy to use, and contains all the data you would ever need.
Use it till you can afford Ahrefs, then go Ahrefs.
I love this tool, and use it every time I create content.
It basically suggest keywords (just like the actual Google search bar), but for multiple search engines at once(!). Use it!
KWFinder and SERPWatcher (Free and Pro Versions available)
As far as really well-done keyword research tools go, Moz, Ahrefs, SEMRush, Majestic, etc, all cost over $1,000 a year for their cheapest plans.
Give the Mangools apps a try:
KWFinder
SERPChecker
SERPWatcher
LINKMiner
For a smooth $30/month, you get access to ALL of these tools. Keyword research, domain and keyword tracking, competitor analysis, backlink miner. It's crazy how good these are, and it's less than HALF the cost of other SEO tools 🙂
Site audit and broken backlink tools
We'll talk more about site speed below, but managing broken links, redirects, etc, is important!
Broken Link Check – Free
It takes a hot minute to scan your site, but it also provides handy links straight to your content–so you can dive in and fix broken links!
Dr. Link Check – Free
Essentially the same thing.
SEO Web Page Analyzer – Free
This is a cool blogging tool. This little page analyzes a TON of stuff on any page–yours or any other site.
Website Optimization and Site Speed Tools
In this category we have
image compressors (already discussed above)
cache plugins
CDNs
Install and activate the plugin
Switch on a few settings
BOOM. Your website is now WAY faster
No, it's not free–but it's cheap and far superior to other cache plugins I've tried (and I've tried them all). It's the most user-friendly cache plugin I've found.
WP Rocket is worth it. One of my "mandatory top-5 plugins" for bloggers.
Free cache plugin alternative: W3 Total Cache
If you're a seriously casual blogger and really just want a speed increase on the cheap, try W3.
It's complicated to set up optimally and has too many features, but it can give speed increases "out of the box" as well.
It's easy to set-up (just requires ONE new cname record added to your cPanel account–tutorials of which are plentiful in a quick Google search)
It's 100% free for one website
It leads to amazing speed increases
There's no reason not to use a CDN with your blog! There is no downside at all.
Here's a handy guide to setting up Cloudflare as your CDN.
The Best Tools for Social Media Management & Automation
I've tried Hootsuite, meetEdgar, and Buffer…..and NONE of them compare to SmarterQueue.
I NO LONGER spend 30-60 minutes a week loading up my queues. I set up scheduled times, content groups, and now I ONLY have to add new content.
The rest is done for me. It "recycles" evergreen content.
Twitter, Facebook, LinkedIn, Pinterest? Check!
Split-testing share images and copy? Check!
I HIGHLY recommend you try it out for 14 days (Use my affiliate link for 30 days free!).
(Also, I wrote an entire review of SmarterQueue here)
Buffer is free and functional.
Given SmarterQueue is paid only, I feel the need to recommendation my favorite free tool for scheduling a social media queue.
The free plan on Buffer is fantastic, and covers the basic needs for 99% of bloggers!
It doesn't have content groups or evergreen "recycling," however, so it's not nearly as powerful as SmarterQueue or Meet Edgar.
Pinterest user? Tailwind is essentially the ONLY tool you need.
Automate your pins,
Analyze your profile, board, and group board stats
Chrome extension to share anything from anywhere (to multiple boards, groups, tribes, etc!)
Tailwind Tribes access
(P.S. Use my affiliate link here and we BOTH get $15. That's a full month free) After you have it, go listen to Alisa from Tailwind on the podcast! She drops awesome Pinterest traffic bombs 🙂
Note: I don't recommend Hootsuite or Meet Edgar or Social Bee for bloggers. These are great tools, but do not fit the needs of bloggers as well as SmarterQueue and Buffer.
Site Security and Blog Backup Tools
Protecting your blog from attacks is a REAL threat.
Luckily, there are free (and cheap) solutions for this, and WordFence is my favorite. It's largely plug and go, with minimal set-up.
If you'd like to learn a TON more, you should check out my entire blog post on-site security and backups here.
Updraft is the ONLY backup plugin I've seen that has 3rd-part backups (i.e. Google Drive, Dropbox, etc), available in their free version.
Woot!
Email Marketing Tools & ESPs (Email Service Providers
Out of everything I do here at Do You Even Blog, THIS is the blogging tool question I get most often:
Which email marketing software is right for ME?

-all of you in the DYEB Tribe
Below are my honest–but controversial–recommendations for bloggers.
The Best Email Service Providers for Bloggers:
Even in the age of ConvertKit, Drip, ActiveCampaign, etc–Mailchimp is simply too free–and therefore makes the list of all-time best blogging tools for beginners.
Is it easy to use and scalable? Nope.
It is the quickest and free-est way to start collecting emails and send newsletters? Yes.
Beginners should start collecting subscribers with Mailchimp, and migrate to ConvertKit after 500-1,000 subscribers…after you figure out what you're doing.
That's my honest opinion.
However….
For experienced bloggers, ConvertKit absolutely takes the cake. It was created with bloggers in mind, and it shows.
It's powerful, intuitive, and still fair-priced. Give it a go if you've got a solid grasp on email marketing and lead gen.
If you have complicated email marketing funnels–your options are Drip and ActiveCampaign.
I used to use–and recommend–Drip.
Then they unexpectedly jacked up their prices without telling anybody. They switched their focus to serving big ecommerce companies, and left the rest of us high and dry.
So I'm moving to ActiveCampaign!
Their product is nearly as powerful as Drip's–better in some ways–and they have great pricing and customer support.
Alternative ESP for Beginners: MailerLite (0-1,000 subs is free!)
Why? It's incredibly easy to use, and also comes with some landing page software as well (similar to ConvertKit above).
While it does lack some of the more powerful features for email marketing, it's definitely a solid choice for new folks.
Tools to level-up your Gmail (or Outlook, etc)
Outreach, productivity, email tracking, etc:
All of these tools do roughly the same thing:
email tracking analytics
email scheduling
templates
organizational features
FYI – if you're looking for some beginner tactics to grow your email list–here's my full guide.
Blogging Tools to Help Create Better Content
Writing apps:
Bear is lightweight, pretty, distraction-free, and an AMAZING tool to compose in.
I use this to…
Take podcast interview notes
Draft blog posts
Brainstorm ideas
Keep track of my daily to-do's
Save content to read later (the Chrome extension is amazing).
Various blogging tools that yield better content:
Coschedule Headline Analyzer for creating amazing headlines (Free)
We all know headlines are important, yes?
This tool is great for working through different headline strategies, and it's also addicting and fun 🙂
Also, I wrote an entire headline analyzer guide for using the CoSchedule tool, as well as another favorite, the AMI Emotional Headline Analyzer.
Hemingway App for crafting short and compelling language (Free)
This software was literally created to be a super fun (and slightly addicting) way to potentially make your writing a lot more crisp, clear, bold, and maybe way more impactful.
Oops, guess that last sentence should've been:
A fun (and slightly addicting) software to make your writing crisp, clear, bold, and way more impactful.
Grammarly for spelling & grammar (free)
This is a MANDATORY blogging tool for writing.
Grammarly will pop-up in most applications, browsers, and apps, and tell you what you're doing wrong (and gives you an easy way to fix grammar errors!).
Social Warfare – Social Sharing Plugin (Free and cheap paid version)
This plugin makes it easy for people to share your content–a must-have in blogging.
Blog Organization, Productivity, and Project Management Softare
Thanks to Matt Giovansci–who has an awesome course on how to use Asana for bloggers–I know run my entire business/content from here.
Related: How to Make a 12-Week Blog Plan You'll Crush?
Alternative: Trello (free)
Trello is similar to Asana in that it's a project management tool–but it is organized completely differently.
If you find yourself typing things repeatedly–email signatures, URLs, phrases, etc, you need TextExpander.
It allows you to create shortcuts for bunks of text.
Example: I simply hit "hhdd" and out pops https://doyouevenblog.com.
This app works on both mobile and desktop, and allows me to selectively block Gmail, Twitter, Facebook, IG, etc, so I won't even be tempted to be distracted.
Freedom Pro Tip: Sign up for their free trial, and DO NOT upgrade right away. They'll send you discount codes ?
Misc. Productivity Tools
Voxer (Free mobile app) – It's half texting/messaging and half walkie-talkie app! I use this instead of texting for most of my online relationships–including Team DYEB.
Lastpass (Free) – My password manager of choice. It's absolutely amazing and I think e ery human should use it.
Yoink (Mac & iOS only. Roughly $7 in App Store) – I had NO CLUE I needed something to make dragging-n-dropping files better–but I did. I use this every day.
Scanner Pro ($4 mobile app) – Makes scanning paper-ish things a SNAP–and can also create multi-page PDFs.
Alfred (Mac only. Free & Paid) – It's like an insanely functional search bar for your Mac. I use it no less than 50 times a day.
Rocket (Mac only. Free) – Makes it easy to insert emojis! ?
Wi-Fi Sweetspots (Free mobile app) – I use this to find the best wi-fi spots when I travel to different coffee shops, public places, etc.
Tools That Help You Monetize
This is NOT an e-commerce or store option–like WooCommerce or Shopify.
Rather, Gumroad is stand-alone software to sell digital or physical products from just about anywhere–from embeddable buy buttons, links, etc.
The reason Gumroad gets my recommendation is because of its simplicity. No reason to stress over software design, APIs, payment processors, etc. Just sign up, create a product, embed buy button, and BOOM. You're selling something.
I have to mention this for advanced bloggers with established courses, etc. This is what I use to process ALL my transactions these days.
E-commerce solutions:
WooCommerce (WordPress plugin. Free, but not really)
It's still a great product, but a bit hard to set-up and make "perfect." Also, while the core plugin and functionality is free–you have to shell out $$ for even basic expansions.
Shopify (Stand-alone. Starts at $29/month)
If you can front the $29/month price tag, Shopify is a fantastic stand-alone e-commerce platform. I know several bloggers who have separate Shopify shops in addition to their main site.
For more on monetizing your blog, check out our mega-guide here.
Landing Page Software
There is no better page-building plugin for WordPress.
Period.
You can use it for opt-in pages–like my New Blogger Bootcamp landing page, or even blog posts–like my manifesto–or even widgets/headers/more.
I do NOT recommend Leadpages. It's too expensive, clunky, and does half of what Elementor does.
Interested in learning how to USE Elementor? Click here to read my comprehensive tutorial!
The Best WordPress Themes for Bloggers
StudioPress makes amazing WordPress themes that are…
fast-loading
clean
easy to design
easy to learn/configure
affordable
YES–there's a learning curve when you first pick up a Genesis theme, but it's like riding a bike: If you ever switch themes, you'll already be comfortable with design, helping you get up and running ASAP.
At the time I'm writing this, I'm currently on the Twenty-Nineteen theme, and I love it!
You can't go wrong with a default WP theme. They're simple, fast, and clean.
Blogging Courses That'll Help You Grow
Wide variety of courses based on your interest
Flexible payment plans
A world-class community of students for support
An insanely handsome creator
No, I'm completely NOT 100% biased.
Just kidding. It's my platform!
My hardware tools
Not to be a complete tease, but I compiled these ENTIRELY in a separate post!
Click to read: Inside My Blog Bag (December 2018 Edition).
---
Extra random blogging tools!
Justgetflux.com for adjusting screen colors for nighttime blogging (Free)
Flux helps save your eyes! It prevents strain by altering the natural screen light from your computer, based on the time of day.
Snip.ly for getting a bit of extra traffic when you share other people's content (Free and Pro versions available)
A fun little traffic tool. Here's how it works:
You find an article you want to share (someone else's, not your own!)
You "snip" it, creating a small Call-to-action widget.
You share the article w/ the world
When someone clicks on the link, they see the article you shared w/ YOUR call-to-action on the page.
Feels a little bit like hacking. Try it out and let me know if you see any cool results (seriously. Email me and let me feature you?)
ColorPick Eyedropper for identifying any colors on any website (Free)
Chrome extension that lets you hover over any website page, and snag the color code!
I'm ashamed to say I've tried dozens of these tools, and this one is my favorite. (lol)
What are some of your blogging tools, apps, etc? Let me know in the comments!
That's a wrap! Did you enjoy these? Discover something new? Want to add something?
Drop me a comment!