Wanna learn how to monetize a blog? Great!
So do 10,001 other bloggers, and it is NOT always easy 😉
Sooooo many bloggers see the Pat Flynns and Darren Rowses of the world making $100k/month…and end up frustrated…
"Am I doing the right things? All these 'make money online tips' seem a lot harder now."
"Making real money seems so far away. How can I make money NOW to sustain myself?"
Well there's luck –>
Below is a TON of ways to monetize a website with ads, affiliate marketing, online courses, virtual summits, etc…
…as well as practical tools & resources to help you get up and earning in no time.
Yes, every blogger CAN make money from their website. It's just a matter of patience, hard work, and learning.
This post covers the learning.  Boom.
Table of Contents: Here's how to monetize a blog:
Monetizing fundamentals (click to go)
A valuable niche
Amazing content
A loyal community and following
Engagement
Monetize with Ads  (click to go)
Display ads
Native ads
Custom ads with affiliate links
Monetize with Affiliate Marketing (click to go)
Amazon Associates
Affiliate networks
Single program affiliate links
Info Product affiliate links
Monetize with Products (click to go)
Ebooks
Online courses
Virtual Summits
Monetize with your Content (click to go)
Sponsorships (and paid or premium content)
Membership sites
Flipping blogs
Make Money from Services (click to go)
Blog freelancing
Blog Coaching and Consulting
Monetization fundamentals
FAQ: How Do You Make Money From a Blog?
There are several different ways, the most popular of which are:
showing ads on your site
promoting affiliate products and earning referral commissions
creating and selling digital products such as courses, ebooks, paid webinars, membership platforms, and more.
The secret ingredient for ALL of these, however, is building a loyal and trusting following! (through blog traffic and an email list).
If you want to monetize a blog, your learning will be for NOTHING without the following:
1 – A valuable niche
A lawn maintenance site will NOT be as lucrative as a book review site. (Who buys lawn stuff online? Nobody.)
The blogging about blogging niche (I.e. what I'm doing right this second) is a VERY lucrative one, as people are willing to pay for info products to help them grow their blogs.
Do people buy stuff online in your niche?
2 – Amazing content
In order to make decent money from your blog, you're going to HAVE to produce content that matters to people. Period.
GROWING an audience depends on readers coming back for more. People don't return to your site after they see crappy content.
This applies to ALL monetization methods too.
Ads? You're going to need massive blog traffic. Good content is the only way to bring that.
$700 online courses? Followers need to trust you a TON in order to fork over that cash. Publishing CONSISTENT good content builds that trust.
3 – A loyal community, following, and fans
Publishing products (or even ads) into a void obviously won't monetize your blog.
You'll need a following centered around your email list, as well as various social media platforms.
4 – Engagement!
More important than even website traffic….is engagement. Clicking, commenting, replying to emails, etc.
You want followers to not only glance at your site periodically…but be INVOLVED in your content, clicking affiliate links and purchasing ebooks because they've been around you long enough to TRUST your recommendations.
Also, I made a video for this post as well! If you're looking for more monetization examples for your own blog, here's more 🙂
Now let's make money!
Monetize with Blog Ads
For our purposes…we're talking about display ads (also called "banner ads") and "native ads."
Blog Ads = You earn a small amount of coin every time a website visitor *views* the ad, and a little MORE every time a visitor CLICKS an ad.
---
Display ads
Pros – Fairly passive revenue. Higher traffic = more revenue
Cons – low traffic = low revenue. (VERY low revenue)
Difficulty – 1/10 Just connect to a network and install on your blog!
Resources – Here's how to add Adsense to your site. At 50kish views a month, go to Mediavine!
The picture below is my friend John's blog, ESI Money:
The ads you see are from an "ad network" called Mediavine (there's a huge list of several of these companies below), and another popular one would be the famous Google Adsense.
Adsense is great for beginners but pays WAY less than other networks like Mediavine.
However, these better-paying networks often require a minimum of traffic! Mediavine requires 25k sessions per month (if you have that already…give them a try! People make a great income at that level).
For new bloggers with little website traffic, Google Adsense MIGHT bring a few dollars a month. For websites with 50k, 75k, 100k+ page views a month, they can make a few thousand dollars (like my friend John above)
Here's how display ads work:
You apply to an ad network.
They review your site, check your traffic, etc.
Once approved, you'll be able to choose sections of your site to place ads (in the content, in the footer, in the sidebar, etc)
That's it. You're done. You collect checks.
DYEB Recommends…
Don't show display ads on your site until your traffic is sufficient to make real money. At that point, we recommend Mediavine!
They pay bloggers MORE money, straight up.
Additional RESOURCES
Here are a few more ad networks:
---
Native Ads
Pros – same as above
Cons – same as above, AND it distracts readers 🙁 🙁
Difficulty – same as above
Resources – same as above
So, when we say "native ads," we really just mean ads inserted within the content itself.
Technically, the law REQUIRES these ads to be labeled as ads, but they're usually designed to blend in with the content.
All of the ad networks above ALSO insert ads in a native format, but you CAN turn them off if you find it an interruption to your readers 🙂 🙂
---
Custom ads with affiliate links
Pros – You have COMPLETE control over what you advertise! You can make sure it's a fit for your readers!
Cons – Still an ad, and requires a bit of custom ad creation on YOUR part
Difficulty – 3/10
Resources – Your affiliate's backend dashboard (where you'll get your aff link)
Affiliate link banner ads are our FAVE type of ad, for the obvious reason: we value our readers, and you should value your readers.
Affiliate marketing, used ONLY when the recommended products are a great fit for your readers, is a powerful way to make money from ads on your website.
We'll talk about affiliate marketing in detail below, but you can always share aff links in an ad "format" as well!
DYEB Recommends
Don't spend a ton of time trying to DESIGN ads, ever. It's not a great use of your time. However, DO grab pre-made banner ads from your favorite affiliate!
How to get started:
Almost ALL networks will offer pre-made affiliate banner ads. 
You'll almost ALWAYS find these in your affiliate dashboard, and they'll GIVE you the HTML code to copy/paste into your blog.
I copied and pasted a code for my favorite marketing book from my Amazon Associates account below:

You retain control of the product ads you serve your visitors = GOLD. So much better than display ads, and likely more lucrative as well.
Monetize with Affiliate Marketing
Affiliate marketing is the single most popular way to make money from a blog, for 3 reasons:
You don't have to create the products. Somebody else took care of the hard part!
You have control over what you advertise so you can recommend only products that are RELEVANT to your readers.
It's FAR more profitable than ads
My friend Michelle Schroeder is an affiliate marketing expert, and she routinely makes over $100,000 a MONTH using aff links. (I also interviewed her here!)
FAQ: How do I get started with affiliate marketing? The first step is applying to affiliate programs for products you want to promote. Once accepted, you will grab a "special" or "unique" URL code that you can use to link to their product. When visitors click through your special link and buy the product, YOU EARN MONEY.
Here's an example:
One of my favorite products to promote is ConvertKit. They are THE go-to for bloggers who do email marketing.
I applied to be a part of their affiliate program, and they gave me this special link:
http://mbsy.co/convertkit/pnm326
If you click on that link, then sign up for ConvertKit, I'll get 30% of whatever YOU pay them…every single month. Powerful!
---
Amazon Associates Affiliate Program
Pros – easy to get started, you can promote anything on Amazon, you'll get commissions on ANY product they buy….not just the one you promoted
Cons – Doesn't pay a ton (Usually 2-4% of sales)
Difficulty – 1/10
Resources – Here's the link to get started and sign up.
This is mandatory for any aspiring affiliate marketer, as EVERYBODY has something to buy on Amazon. It's great for all niches!
FAQ: How does it work? When somebody clicks through your Amazon affiliate link, they get a "cookie" stored in their browser (Google Chrome, etc)…and if they purchase any product (read that again…ANY product, not just what you linked them to) within the next 24 hours, you get paid a percentage of that!)
So if you link to this $19 Do You Even Blog T-shirt, and somebody clicks through but buys an $850 drone…YOU get a percentage of the price of the drone 🙂 🙂
DYEB Recommends
Sign up here for an affiliate account ASAP.
This is the most accessible affiliate program out there, and people TRUST buying on Amazon. It's a fantastic way to promote products and earn extra money.
---
Affiliate networks
Pros – Access to a TON more products not on Amazon. Ease of access.
Cons – Some networks require a strict application, minimum website visits per month, etc.
Difficulty – 2/10
Resources – Shareasale, Clickbank, Commission Junction. Those are the biggest 🙂
The idea is the same as Amazon above, but instead of your links leading to an Amazon page, they will lead to a specific company or product.
These networks contain THOUSANDS of different products and companies to choose from!
Note: Even though you get access to thousands to products through these networks…you'll still have to "apply" to each affiliate separately. Don't worry, you can do this THROUGH your network dashboard 🙂
Pro Tip: Getting overwhelmed as a new blogger? START by grabbing an Amazon Associates account, then start blogging regularly. In time, you will start linking out to other products/companies. THEN go Google "[product name] affiliate," and see if they have an affiliate program. Apply then. Don't get overwhelmed trying to apply to 159 affiliate accounts at once.
DYEB Recommends
Start blogging, and when you DO start linking to products, apply to their aff programs at that time.
---
Single Program Affiliate Programs
Pros – More $$$$ per commission usually!
Cons – More log-ins and dashboards to keep up with.
Difficulty – 3/10
Resources – It depends on your individual affiliate–find their dashboard!
Some products and companies aren't a part of any affiliate networks, but they might have their affiliate programs hosted separately!
When I linked to ConvertKit, that was through their own affiliate program, found here.
Furthermore, many products have "refer a friend" type of campaigns, where they'll give you a link, and either a bit of cash or free product for referring your friends!
SmarterQueue is my recommended social media tool, and it costs me $20 a month. However, when people sign up via my affiliate link here (which gets them a free month)…I get a free credit!
(Want to see more tried and tested blogging tools? Here's my top recommendations.)
Pro Tip: Once you've been blogging a while, you'll likely have a TON of affiliate links and dashboards to keep track of. We recommend creating a Google Sheets document and putting all of your links there (as well as links to your dashboard log-ins)
Here's mine:
---
Info Product Affiliate Programs
Pros – Usually pay really well
Cons – You'll need to work 1-on-1 with the product owners, or perhaps even have BOUGHT their product
Difficulty – 3/10
Resources – Each individual program, but Making Sense of Affiliate Marketing.
This just means you'll be promoting other bloggers info products! (which we'll talk A TON about below in the products section).
See that link above to Michelle's affiliate marketing course? That's my affiliate link, and when people buy the program through my link, I'll make $67.
Heck, I have my own affiliate program to Blogger U (my flagship blogging course and membership site).
DYEB Recommends
If you're a new blogger, you can't just start applying to other bloggers' products right away. Becoming affiliates for other bloggers' products happens over time as a natural result of building blogging relationships.
However, they pay well. Typically 25%-40%. That's over $200 PER REFERRAL for premium products like Blogger U and Making Sense of Affiliate Marketing.
Monetize from Blogging Info Products
Some of this might be tough while you're learning how to monetize a blog, and rightfully so: Creating your own products is advanced stuff.
Affiliate marketing means somebody else did the hard work of creating, designing, and launching products. Now it's YOUR turn to do all that work.
Good news though: Monetizing your website with your products doesn't have to take months. You CAN make money from very simple but valuable products.
With HIGH profit margins too
Below are the BEST ways to make money from your blog without going back for an MBA or product design degree 😉
---
Ebooks
Pros – Will cost you nothing to deliver, and you can generally re-use content and ideas you've already written
Cons – Not big ticket items, are surprisingly difficult to sell. Some learning curve required.
Difficulty – 7/10
Resources – Canva for designing ebook covers. This article on how to CREATE and format the ebooks. This guide to publishing via Kindle.
Ebook are just like regular books, except that ANYBODY can create and publish them…and they're read via computer.
FAQ: What's the best format for selling an ebook? The simplest way is to write via MS Word or a Google Doc, and export to PDF. BAM. Ebook! However, you can also publish to be read on people's devices, such as Kindle. Then you can sell your ebook on Amazon!
Liz from The Virtual Campground created a 40+ page PDF, and sells it in the sidebar to her website, bringing in several hundred dollars per month.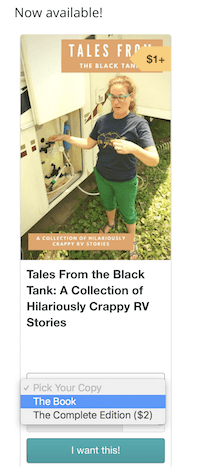 If you've been blogging for a while (and have built up a nice body of posts), you can also pull from content you've already written to fill out your ebook.
Pro Tip: Wondering what you could write that will actually SELL and make money? If you have access to your blog metrics, (which you should) you can sort all your blog posts by 'most viewed'…and that will tell you WHICH pieces of content resonate the most with your readers. Create paid products based on THOSE topics!
DYEB recommends
Ebooks easy enough, especially is you're utilizing free templates…but my guess is you'll find them DIFFICULT to sell. Especially for decent money. (Have YOU ever paid more than $10 for an ebook? Seems rare).
The ebook would have to be EXTREMELY tasty and valuable. And even then, it's a low ticket item compared to how much time you spend creating it.
If you want to teach people via a paid product, online courses are far more appropriate (and profitable) than ebooks.
So speaking of which, let's learn how to monetize a blog via courses!
---
Online courses
Pros – HUGE profit potential. Tons of flexibility with format and content
Cons – – Takes a ton of work. Still requires marketing and sales skills 🙂
Difficulty – 8/10
Resources – Teachable for creating and hosting course content. See resources below for tips on getting started.
The 8/10 difficulty rating is the hardest and most intimidating for our uber 'how to monetize a blog' list. However, creating your own online course is STILL the highest ROI and most profitable website monetization strategy.
This is for three reasons:
You can create a course once and sell it for years to come, making the income fairly passive…apart from the initial work of creating.
You can price your courses anywhere from $0 (used to get leads, not dollars) to literally thousands.
It's also a preferred format for teaching people things, so your readers will approve!
Here's Michelle Schroeder's December 2017 monthly income report:
That's crazy money.
When Bryan Harris had his FIRST product launch for his course 10K Subs, it made over $200k.
He now makes over $1M annually from that course.
Overwhelmed? You do NOT need to be making money from an online course like THESE people. It took them YEARS to build an audience that would bring that much revenue. You CAN get started TODAY.
You don't need a huge audience or fancy & expensive software to start making money soon.
Only 3 months into THIS blog, with an email list of less than 400 people, I made over $1,500 from my first product launch (an online course).
How to get started:
First, here is a fantastic article on how to create online courses for your blog that monetize well, written by my friend Nick Loper from Side Hustle Nation.
Step 0 – Find a course idea.
This is actually the most important step by FAR. Whatever info product you create, it needs to be something REALLY DESIRABLE to your target reader! Something they want really bad.
Ask yourself: What problems or frustrations are my followers facing? What do they need help with? Which problems need MORE than a 1,300 word blog post to solve?
Step 1 – Pre-sale course BEFORE you build it
Why waste precious time and energy building an online course if you're not COMPLETELY convinced that your readers will pay you money for it? What better way to validate a blog monetization idea that to actually ASK for money before you build it?
Pat Flynn from Smart Passive Income wrote a book called Will it Fly? which details this idea validation phase. Worth reading!
Step 2 – Choose a platform
I recommend Teachable, only because it's FREE to start with, and you can start creating content immediately, no set-up required. You can also create and sell products in online course directories like Udemy, or even host them on your own blog…but Teachable seems to be the best of both worlds.
Steps 3 and 4 – Build the course and launch it
This blog post on monetizing isn't the place to detail this out, but launching online courses to make money isn't a walk in the park.
In fact, it's hard. Check out this blog post for more info on LAUNCHING products, specifically courses!
Overall, building an online course is probably the best way to monetize your blog, but it takes a massive amount of research, planning, building, and then selling. High ROI = lots of work.
---
Virtual Summits
FAQ: What IS a virtual summit? If a webinar is just you on video presenting (or maybe one guest), a summit is MULTIPLE videos with MULTIPLE presenters over a day or two.
Most summits are gathered around a specific topic, like my friend Tom Kuegler's "Grow your Blog Summit," which spanned several days and featured video presentations with 25+ bloggers.
So here's how a summit can monetize a blog: 
You choose a topic your blog readers care deeply about.
Find experts and other presenters on that topic
Either pre-record interviews via a webinar host (or Skype or Zoom), or do them live during the summit
Promote the summit (generally with FREE admission…with product offerings on the backend for money, or charge people for lifetime access to replays!)
DYEB Recommends
Not doing virtual summits, unless you have a TON of time to organize the event, as well as great connections (to get impressive speakers). It's simply NOT a great return on investment outside of that. Learn how to monetize a blog in better ways.
Monetize your blog content itself (membership sites and sponsors)
Ok, so TECHNICALLY, monetizing your blog from ebooks and courses IS selling content…but it's just a different format.
Ebooks are delivered via PDF downloads, or Kindle formatted, etc.
Online courses are delivered via a module and lesson formats, like a school syllabus, whether that's via a drip email course, Teachable, or your blog.
The following monetization ideas are people JUST PAYING for your content in the totally normal way. I.e. blog posts! (or podcasts or videos).
---
Sponsorships and sponsored posts
Pros – QUICK way to make money for your blog. Less time-consuming
Cons – Requires skilled outreach and pitching skills, and/or a large audience
Difficulty – 6/10
Resources – Read this awesome post with Rachel from Joyful Derivatives, then listen to Jason Zook on Nick Loper's podcast episode about getting sponsors here.
If the thought of emailing influencers or companies and straight up ASKING them for money scares you…this monetization strategy is not for you.
Sponsorships = you reaching out to people/companies who want promotion, and asking them to sponsor your content in exchange for money. ANY content.
Sponsored posts = slightly different. This is where your content itself is focused on promoting the sponsor.
Bobby at Millennial Money Man has a large enough blog now that sponsors reach out to HIM and asked for sponsored posts.
However, you don't necessarily NEED a huge reach and millions of visitors to get a sponsorships.
In my FIRST month blogging, I lined up two sponsors for $150. (more info here on that first month). I had literally NO views or downloads, and that more than paid for the first year's website hosting, etc. #MONETIZE
Pro Tip: The key to obtaining sponsorships for your blog is A: finding people with enough money to pay, B: being upfront and honest with your intentions, and C: find the perfect balance of the value YOU provide THEM in exchange for the money they give you.
DYEB Recommends
It takes a certain amount of guts, persistence, and patience to pitch people or companies for sponsorships.
If you feel you have what it takes to deliver this type of value, and are comfortable pitching people and getting rejected, this is an EXCELLENT and quick way to monetize your blog. But be honest with yourself, if this isn't you, move on to other methods!
---
Membership sites
Pros – Can be huge, predictable, and RECURRING blog revenues,
Cons – VERY difficult to sell
Difficulty – 8/10
Resources – See below for software tools to build membership sites
Paul Scrivens of Keto Dash makes over $3,000/month from his membership site:
However, the most POPULAR model to monetize with a membership is with RECURRING revenues.
Blackjack Apprenticeship keeps their good content behind a member's only paywall: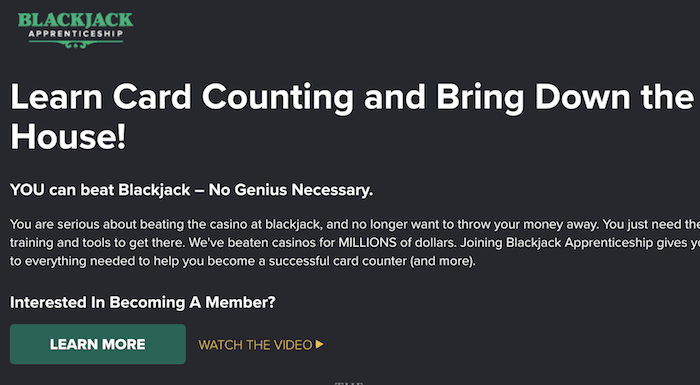 How to monetize a blog with membership sites:
First, you must have content worth paying for. If people don't think it's valuable enough, or if it's just glorified blog content…you'll have a hard time finding sales.
Next, you're going to have to put software in place to restrict access to member content. More on that below.
Last, you need to KEEP making it worthwhile for people to be members. This means adding content consistently. That's a TON of work probably.
Resources and tools for setting up a membership site:
If you're looking for a profitable (but more difficult) way to monetize your website, but want MORE than a stand-alone course…a membership site is what ya want. I'll say this again, you absolutely need content worth paying for though.
There are definitely easier ways to monetize a blog on WordPress…but this can be INSANELY lucrative if you nail it.
---
Flipping blogs (buying and selling, or just selling)
Pros – Um. Lots of cash in bulk?
Cons – You lose your blog, and your blog needs to be valuable!
Difficulty – 7/10
Resources – Flippa and Empire Flippers are the two biggest marketplaces
The ONLY reason 'flipping your blog' is an actual way to monetize…is because there are actually a ton of people who do it professionally.
In fact, there are people out there who start "niche websites" or "authority sites" with the sole intention of selling the blog once it starts getting traffic and ad revenues.
FAQ: At what point would somebody sell their blog? Websites that generate significant traffic are worth money. While there is no minimum traffic for selling a blog, you won't be able to sell for much until you are generating traffic capable of earning a few thousand dollars a month…even if it is NOT currently making that!
Since we're learning how to monetize a blog…that implies we're actually going to keep the blog, so we won't spend a ton of time on this.
Still, just know that at some point down the road, if you blog consistently and start ramping up traffic, blog ad revenues, etc…you likely could find a buyer!
---
BONUS: How to monetize a blog via private label rights
Private Label Rights (PLR) really just means "pre-made content people can just BUY, then use however they want."
People need content, are too lazy to produce content, and also too lazy to hire and manage freelancers? They buy PLR.
And folks like US could potentially sell our content to them. There are TONS of legal stuff to this, as well as competition, but it can be done I suppose. My thoughts? Don't bother lol. Better ways to make money.
Monetize with Blogging Services (Freelancing, Consulting, and Coaching)
This might be a little controversial…as you technically WON'T be monetizing YOUR blog…but rather making money from other people's websites, etc.
(Although I'd argue it's still very much utilizing blogging skills, and you wouldn't be able to get these profitable freelance gigs WITHOUT a blog of your own!)
Important: Personally, I recommend freelancing 1,000% percent.
Freelancing is the fastest way to make money blogging. Period. In terms of overall revenues, no other blog monetization method comes close in the *short-term.*
The reason? For almost all other ways to make money…you need to spend time building traffic and cultivating a following! (who will pay you money).
For freelancing, you need only match up your skills with other bloggers willing to pay you to perform them…of which there are plenty.
---
Blog freelancing
Pros – There is no shortage of people who NEED help with their own blogs and businesses! QUICK money making potential
Cons – Still requires skills and outreach…and you won't be building your own brand (or will you?) 😉
Difficulty – 4/10
Resources – Twitter for building connections (more below), blogging Facebook groups.
At the time of this writing, I still maintain 3 freelancing clients, which earn me anywhere from $1k to $3k a month. I would NOT have found these gigs if I hadn't started this blog.
Nick True from Mapped Out Money runs his own blog and YouTube channel, but actually makes full-time income from only 2 blogging clients.
Kayla Sloan runs a Virtual Assistant business and works for other bloggers. She made over $100k in 2017.
Here's how to make money in freelance blogging and writing
1 – Figure out what you're good at
What skills do you have, or are really keen on improving on? You DON'T need world-class freelancing skills in order to make some money! You just need to find 1 or 2 skills you enjoy working hard at and learning about.
Can you run Facebook Ads? Make pretty Pinterest images? Organize schedules and manage inboxes as a VA? Can you write more good?
#jokes
All of us have something to offer other bloggers, it's just a process of finding what that is and matching it with what other people need.
2 – FIND the people willing to pay you for your services
First, here's a great post from The Penny Hoarder for finding freelance writing gigs. You'll see several "marketplaces" for people looking for freelance bloggers!
However, those can be quite competitive, as can HUGE freelance sites like Upwork, etc. You won't make much blogging money from these.
Rather…focus on this:
3 – Pitch them and build relationships
Bad = cold emailing other bloggers and asking if they need help.
Good = building real relationships with other bloggers and asking if they need help
🙂
Though it'll initially take longer, focusing on building REAL friendships in your communities WILL make money over the long run, and this could very well mean freelancing income as well.
Pro Tip: When pitching for freelance work, always ask for things HONESTLY and transparently. Furthermore, asking for referrals is far more powerful than asking for. things directly! Also, send follow-up emails and be persistent.
---
Blog coaching and consulting
Jillian from Montana Money Adventures is a blog coach AND money mentor…and has more inbound requests that she can handle.
Whether you blog about gardening, the ketogenic diet, or personal finance…there will always be individuals who want 1-on-1 help, and are willing to pay for it!
However, you can't just start a blog one day and hope to make money coaching the next. Why should people trust you? You need to build up that "authority" first.
DYEB Recommends
You may not want to hear it, but I don't think anybody should start coaching their readers until they're being asked to. If you really have to sell it, you're not ready yet anyway.
However, it couldn't hurt to create a separate page on your website where readers could browse through your different service offerings. A "coaching" or "hire me" page could make money one day.
---
Conclusion
If you're really looking to make money blogging, you should know that it takes WORK.
There IS no get rich quick option, nor is there any one "best" way to monetize a blog. You'll have to figure some things out for yourself!
In fact, the ACTUAL best blog monetization strategy is to constantly try different things out until you find what works best for YOU. Then double and triple down on that.
So what will it be for you?
Leave me a comment below and share what strategy has brought you the most money from your blog! If you're a new blogger, what are you most excited to try?