You should know–these are THE essential blogging tools I use every day.
I'm not going to suggest crappy products just so I can score a short-term affiliate sale.
I value your trust and hope you'll stick around DYEB for the LONG-term.
None of these companies reached out to me.
These blogging tools are my favorites based on use, and I stand by my recommendations 1,000%! There definitely affiliate links in here, for sure though 🙂
My Favorite, Tried and Tested, Blogging Tools for Beginners
I've broken these up into the following categories:
Content Essentials
SEO tools
Growth tools
Organizational tools
Email tools
Website domain, hosting, CMS tools
Podcasting Tools
Extra fun tools!
Content Essentials
WordPress (Or heck, even WordPress.com!)
The absolutely ultimate beginner blogging tool.
WordPress is the actual software that powers this blog, as well as something like 33% of the entire internet!
It is by far the best choice for bloggers, over competitors like…
Wix
Weebly
Squarespace
Joomla?
It offers far more customization (even if that DOES come with a learning curve at first), and generally just comes loaded with the most power.
There's a reason WordPress is dang-near a household name. They're awesome. Use it. If you're truly new hear and want to learn how to set WordPress UP, check out the beginner guide to starting a blog. It's also free.
Snappa.com (Free and Pro versions available: ~$10/month)
Many of you use the Picmonkeys and the Canvas and the Adobe Indesigns…and I've used all of these as well, but I keep coming back to Snappa.
Some features (the last of which is by far my favorite)
User-friendly UI
Great selection of fonts and access to custom colors
WAY better layout guides, snapping, and layer functionality than any other tool I've tried.
Super magic auto-resizing feature (need to create Pinterest, Twitter, and FB graphics at the same time? Done).
Built-in access to the Stocksnap.io stock photo library(!)
Seriously, the built-in stock photo library in Snappa is amazing, and worth it.
All the images on this page were created in less than 5 minutes.
Canva – (Free and Paid)
Snappa's main competitor, Canva is by FAR the most used graphic design and image tool for bloggers.
There are definitely fantastic features there, but I tend to get a bit annoyed at the paid images (if you start using Canva, you'll know what I'm talking about), and therefore don't enjoy it as much as Snappa.
However, it is powerful for creating featured images, Pinterest images, etc. Definitely worth checking out.
Compressor.io (FREEEEE)
In your blogging tool arsenal, you NEED a tool to compress those fancy images you're creating.
This is super important for SEO, as uncompressed images slow down your site!
We want out blogs to be nice and speedy, so compressor makes a great addition to your blog tool roundup.
Coschedule Headline Analyzer (Free)
We all know headlines are super important, yes? Yes.
This tool is amaaaaazing for working through different headline strategies, and it's also addicting and fun 🙂
Hemingway App (Free)
This software was created to be a super fun (and slightly addicting) way to potentially make your writing a lot more crisp, clear, bold, and maybe way more impactful.
Oops, guess that last sentence should've been:
A fun (and slightly addicting) software to make your writing crisp, clear, bold, and way more impactful.
SEO tools (Search Engine Optimization tools)
Yoast SEO (Free and Pro version available)
I use it. Everyone uses it. You should too. It's awesome for on-page SEO. 'Nuff said? Nuff said.
Google Keyword Planner (Free)
There are LOADS of SEO tools out there for keyword research, Google competition analysis, etc. Moz, Ahrefs, Market Samuria, Keyword.io…all these are great (but most are expensive).
Google's keyword tool is one of the top blogging tools for beginners. It's free, (fairly) easy to use, and contains all the data you would ever need.
Use it till you can afford Moz, then go Moz.
Soolve.com (Free)
I love this tool, and use it every time I create content.
It basically suggest keywords (just like the actual Google search bar), but for multiple search engines at once(!). Use it!
KWFinder and SERPWatcher (Free and Pro Versions available)
As far as really well-done keyword research tools go, FORGET Moz, Ahrefs, etc. Those all cost over $1,000 a year for their cheapest plans.
Forget those.
Give the Mangools apps a try:
KWFinder
SERPChecker
SERPWatcher
LINKMiner
For a smooth $30/month, you get access to ALL of these tools. Keyword research, domain and keyword tracking, competitor analysis, backlink miner. It's crazy how good these are, and it's less than HALF the cost of other SEO tools 🙂
Growth Tools
Sumo.com (Free and Pro versions available)
No, Noah Kagan is not paying me for this. I have used Sumo and every website I've ever had. Seriously.
Sumo is a must-have tool for
Email list growth
Conversion tools
Content Analytics
Share buttons (you're looking at mine right now)
Way more.
Social Warfare (a close 2nd to Sumo)
Social Warfare is worth mentioning only because Sumo has been such a powerhouse with share tools….this little plugin is now the scrappy underdog tool for bloggers.
I haven't actually used these guys, but I hear AMAZING things around the blogosphere…from people I trust! Try this tool out.
SmarterQueue for social media automation! ( ~$20/month, but w/ 30-day free trial)
I've tried Hootsuite, meetEdgar, and Buffer…..and NONE of them compare to SmarterQueue.
(I've only been with them a month now, but I am loving every second of it.)
I NO LONGER spend 30-60 minutes a week loading up my queues. I set up my scheduled times, and my post groups, and now I ONLY have to add new content (and other people's content that I enjoy).
The rest is done for me. It recycles evergreen content. 
5 mins a week! I highly, highly , HIGHLY recommend you try it out for 14 days (Use my affiliate link for 30 days free!).
(Also, I wrote an entire review of SmarterQueue here)
Tailwind (Free trial available, but really paid)
Boardbooster is recommended a lot as well, but I really don't see a need for it. Tailwind does it all.
Automate your pins,
Analyze your profile, board, and group board stats (which group boards are worth your time? Tailwind straight up shows you)
Handy Chrome extension to share anything from anywhere (to multiple boards, groups, tribes, etc!)
(P.S. Use my affiliate link here and we BOTH get $15. That's a full month free) After you have it, go listen to Rosemarie Groner drop huge Pinterest value bombs in our chat.
Organizational Tools
Bear App (Free. Pro versions available)
I LOVE THESE GUYS. I literally use Bear every hour I'm working. It's clutch, simple, and amazing. I bought the pro version for $14/year. SSSSuper affordable.
I use this to…
Take podcast interview notes
Draft blog posts
Brainstorm ideas
Keep track of my daily to-do's
Save content to read later (the Chrome extension is amazing).
I use Google Docs for certain things as well, but I literally live out of Bear every day. Can't recommend it enough.
Email tools
Ok, I'm about to stir up some controversy over email service providers…but if you are a complete newbie, I do not recommend starting with ConvertKit.
See below.
Mailchimp (Free up to 1k subs or so, Pro versions available)
MC makes the list of all-time best blogging tools for beginners. Even in 2017, the age of ConvertKit, Aweber, Infusionsoft, etc)
Quite frankly, it's the free-est and easiest to get started with. Complete beginners should start collecting subscribers immediately with Mailchimp, and migrate to ConvertKit after ~500-1,000 subscribers…after you figure out what you're doing.
Sorry, that's my honest opinion.
However….
ConvertKit (Paid, starting at $29/month up to 1k subs)
For more experienced bloggers, ConvertKit absolutely takes the cake. It was created with bloggers in mind, and it shows. It's powerful, intuitive, and still fair-priced. Give it a go if you've got a solid grasp on email marketing and lead gen.
Drip (0-100 free, 101-2,500 $41/mo)
I use Drip on another project, and LOVE IT.
The features are amazing, and it's actually a great price point, especially once you get to the 1k subscriber mark (from there till 2,500, it's actually cheaper than ConvertKit, and still has the same features).
Everything is super user-friendly on Drip. HIGHLY recommended.
MailerLite (0-1,000 subs is free!)
This is another SOLID alternative for beginner bloggers.
Why? It's incredibly easy to use, and also comes with some landing page software as well (similar to CK above).
While it does lack some of the more powerful features for email marketing, it's definitely a solid choice for new folks.
Gmail ($77 a month.)
I use gmail to read and send emails, but with one powerful addition…
Streak (Free and Pro versions available)
Streak is a sales and marketing CRM tool, but it sits right in Gmail! I use it to track emails, set auto-follow-ups, and more.
It's uber powerful, but fairly easy to get started as well.
(Other cool email tools built within Gmail include Mixmax, TopInbox, and Bananatag. If you're looking to grow your email list, there are some excellent strategies for beginners here.)
Website Domain and Hosting tools
A quick note on Bluehost: In the past, I have NOT recommended Bluehost for hosting–based on using their product YEARS ago.
However, while doing research for my 10k+ word mega-uber-definitive guide on how to start a blog, I actually gave Bluehost another shot and went through their entire set-up process.
And I was blown away by how smooth it went!
I'm still going to recommend Siteground for established bloggers who have experience navigating cPanel & installing WordPress, but for new bloggers, I'm recommending Bluehost 250%.
It's quite possibly the fastest way to get up and running with a new WordPress blog I've ever seen, and their user dashboard looks wayyy better than it did 5 years ago.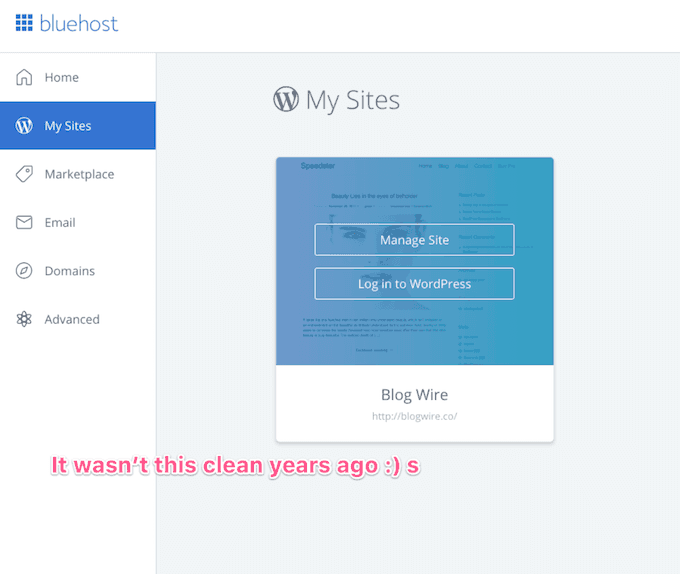 They have my recommendation–for new bloggers especially.
That said, here is my affiliate link to Bluehost. I'm happy to promote it.
Namecheap (for domains)
Namecheap is still my go-to for buying domains, and probably always will be. They're affordable, easy to set-up, and I've never encountered a single problem with their customer service.
I also have a few blogs hosted on Namecheap, and LOVE how easy it is to install SSL certificates on their platform. They make it easy!
Siteground (for hosting)
I personally use Siteground, based on the recommendation of many blogger friends.
I initially switched to Siteground when my traffic ramped up enough to cause Godaddy issues.
Website down = Pete moves his website.
Siteground has been incredibly stable, fast loading, and they offered a free website migration, which might actually be the best decision I've ever made.
If your blog is moving past the 10k-30k views/mo mark, I recommend them, despite the slight cost increase compared to Bluehost and Namecheap.
---
Site security and blog backup tools
WordFence – WordPress security plugin (free and $99/year)
Protecting your blog from attacks is a REAL threat people. Luckily, there are super free (and cheap) solution for this, and WordFence is by far my favorite. It's largely plug and go, with minimal set-up.
If you'd like to learn a TON more, you should check out my entire blog post on site security and backups here.
Updraft Plus (free and paid available, but you only need free)
Seriously, click the link above to learn all there is to know about WP backups, and such, but Updraft is the ONLY backup plugin I've ever seen that has 3rd-part backups (i.e. Google Drive, Dropbox, etc), available in their free version.
Woot!
Podcasting Tools
This concludes the best blogging tools for beginners section, but what about audio?? Podcasting has never been easier in 2018, (and fairly cheap to start). Below are my personal tools.
Podbean for hosting (Free and Pro versions available: ~$120/year)
I get an unlimited amount of minutes uploaded for an incredible price. Sold.
Some of the bigger hosts (Libsyn, etc), set a strict upload limit for their normal accounts (or charge $100+/month. Nope thanks), and who wants to be limited with their talk time??
Not I. I like to ramble.
(I was delightfully surprised with how easy publishing was on Podbean. I had never traversed iTunes, RSS feeds, etc, and they made it easy. Give Podbean some love, they're awesome!)
Audacity for editing (free!)
Audacity is the gold standard of free podcasting tools. It's easy to install and set-up, and there are a TON of online resources and tutorials to help you get up and running. Highly recommended.
Adobe Audition for editing (Paid as part of CC suite)
I'm not the world's best audio engineer, but I hear Audition is pretty nice 🙂 If you're used to working in the Adobe CC suite anyways, transitioning over to this is easy.
Audio Technica AT-2500 Microphone (It's ok.)
I'm currently saving up blogging income to buy a new podcasting setup! Help me out here (and receive loads of promo for your blog in return)

I'm saving up for this…….
Extra fun random blogging tools!
Justgetflux.com (Free)
Flux helps save your eyes! It prevents strain by altering the natural screen light from your computer, based on the time of day.
Snip.ly (Free and Pro versions available)
A fun little traffic tool. Here's how it works:
You find an article you want to share (someone else's, not your own!)
You "snip" it, creating a small Call-to-action widget.
You share the article w/ the world
When someone clicks on the link, they see the article you shared w/ YOUR call-to-action on the page.
Feels a little bit like hacking. Try it out and let me know if you see any cool results (seriously. Email me and let me feature you?)
Screencastify (Free and Pro versions available)
Take videos straight from your browser and automatically save to Google Drive. (both screenshare and webcam!)
This is an amazing app for quickly and easily taking HD vids. It's sooo much quicker than any other tool I've encountered. There are even some built-in editing tools in the Pro version.
Moz Bar (Free)
Nice little SEO tool in Chrome extension format. Let's you check native Google results for domain authority, backlinks, etc. The free version is great.
ColorPick Eyedropper (Free)
Chrome extension that lets you hover over any website page, and snag the color code!
I'm ashamed to say I've tried dozens of these tools, and this one is my favorite. (lol)
What are some of your blogging tools, apps, etc? Let me know in the comments!
That's wrap! Did you enjoy these? Discover something new? Want to add something?
Want to discuss affiliate marketing and how bad Bluehost is? Drop me a comment!