This episode is a bit different. I have two guests today, both of whom are new-ish bloggers who have worked hard and seen amazing results in their first months of blogging.
It's my pleasure to bring you a casual conversation with Lily from The Frugal Gene and Ms. FAF from Frugal Asian Finance.
Lily -> 9k views/month in 3 months, 2-3 podcast bookings, 1k+ Twitter followers….and she also brings in roughly $7k/month just from her AirBnB rental(!)
Ms FAF -> 17k views/month in 4 months, incredible engagement on every single post, and she has incredibly helpful monthly blog reports.
We chat about
How these 2 ladies have helped each other grow their blog traffic and engagement.
The supreme importance of real-world blogging relationships
How bloggers over-emphasize traffic and analytics
Is having paid software really going to make a dent in accomplishing your goals?
Gender/ race opportunities and limitations in blogging (why isn't anyone talking about this?)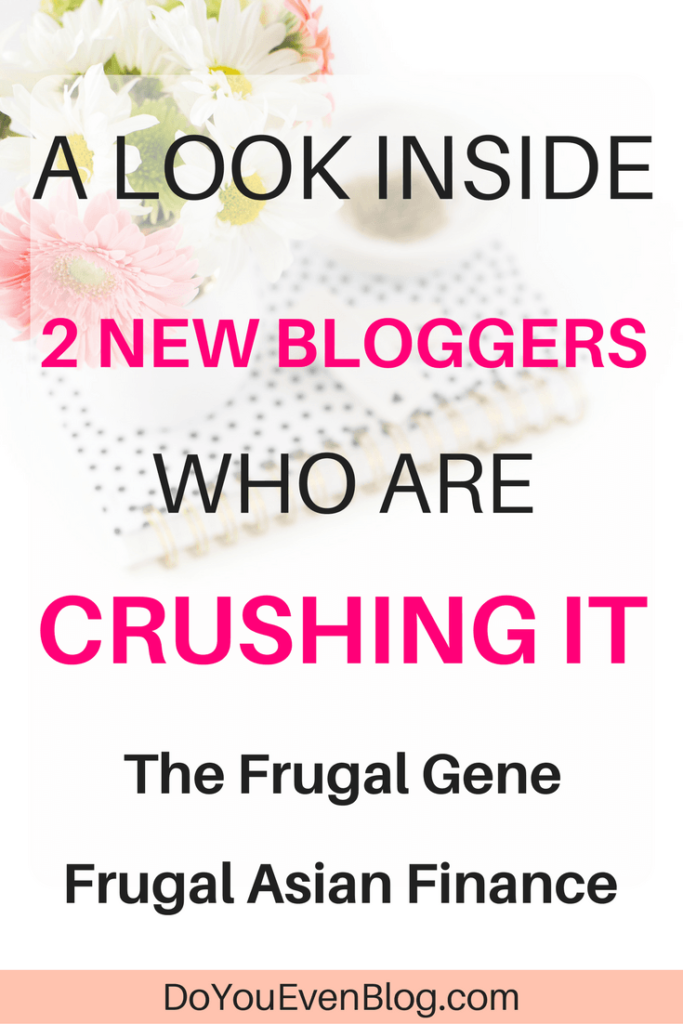 ShowNotes and Links Mentioned.
4 key takeaways from today's episode.
1 – If you blog, you WILL have days where you feel 0% productive.
Even if you worked on your blog. Especially if you worked.
I am constantly
editing podcast episodes,
editing blog posts,
engaging on Twitter,
emailing,
organizing,
brainstorming,
doing technical work on the site…
Even if I charge through those tasks in an 8 hour period…I still feel I have nothing to show for my time.
It's tough, and every blogger feels this sometimes. We want to see published content (aka the medium by which we achieve our goals) for our efforts.
Here's 3 practical tips for avoiding what I'll call "Admin Work Depression, or AWD."
Realize all bloggers go through AWD, even the influencers you look up to.
Curb your perfectionism to cut down admin work, leaving more time for content creation and promotion.
Do the work.
Sadly, with success comes more emails, guest post requests, opportunities, and more work!
Your favorite bloggers have AWD some days, but they've learned to power through it. They realize it's a necessary part of the blogging journey.
However, in some cases, we do spend too much time in admin work. You could be a perfectionist, conquering inbox-zero every day and making sure your blog design is juuuussst right.
It takes wisdom and experience to determine whether your AWD is brought on by a normal day's admin tasks, or if you truly could've spent your time better.
Either way…
Sometimes you just need to sit down and do the work.
Fight the depression, fight the unproductive feeling.
These feelings are brought by your ego (here's further reading), which would love nothing more than to spend as little time possible working….and have uber success.
Re-read the last sentence.
***
2 – We spend too much effort, energy, and time focusing on blog stats.
What are your blogging goals?
Blog traffic
Email subs
Impact
Revenues so you can quit your 9-5 job and traveling the world…working 4 hours a month on your million-dollar blog?
Sound good? Great. We've identified your goals.
Next…
If you had only 2 hours a week to work on your blog…what actions would take you closest to those goals?
Pouring through Google Analytics?
Optimizing your homepage for an extra 0.9% conversion rate?
Combing through Pinterest analytics?
Don't get me wrong…
It's important to track and analyze data, and to prioritize website traffic and your email list. Those are vital to blog growth.
But vital to traffic/subs/$$$$…..is content and following.
A+ content and loyal followers are cornerstones of blogging success, and any other related activity should be carefully managed.
So by all means, monitor your analytics and brainstorm ways to hustle for subs and traffic, but not at the cost of shipping content and engaging with readers.
(Reminder: without content (or with crappy content), you're not going to get the shares/traffic/$$$ you desire anyways)
3 – Do you really need the pro version of XYZ product?
As bloggers, we tend to fall into a pattern of "If I just had XYZ, I'd have more traffic, subs, revenues, followers, etc."
This could be
Again, ask yourself…
How important is it really that I have XYZ tool?
Unless you're rolling in cash (in which case, sponsor me please), this is an important question.
If the answer is "Yes, this will fundamentally change my business/blog," then by all means, upgrade to the pro version, etc.
If the answer is "I don't know" or "unlikely," then why would you upgrade? To see if it works?
Save your cash for when it matters and will make a difference. Chances are, paying for XYZ resource won't make as much a difference as you think.
Stick with free versions and focus on growing your blog. When you start making bank like Rosemarie, upgrade.
4 – Blogging relationships are a key driver of sustained blogging success
Do I sound like a broken record?
I hear this from well-respected bloggers constantly, and I don't see this written about often enough.
Lily and Ms. FAF have seen first-hand the power of a real-world relationship with another blogger. They're considered friends now.
Friends with benefits!
(not in that way, silly).
***
Here some examples from my own blogging career, as well as Lily and Ms. FAF:
1 – Namedropping works.
I've been lucky enough to nail down recognizable podcast guests, and I use these names when I pitch potential guests. This is social proof 101, and it works like magic.
2 – Referrals and shares.
Bloggers who are actual friends (or even just acquaintances) are 100x more likely to share your content than an internet stranger. Lily and Ms. FAF have done wonders for each other's growth (inviting each other to valuable group boards on Pinterest, retweeting, commenting and engaging, etc)
3 – The occasional huge opportunity.
I've recently created a partnership with a fairly recognizable brand, which could be an amazing opportunity…and it NEVER would've happened without a key blogging connection!
4 – It's just nice. (having support rocks)
I recently Skyped w/ my blogging friend and accountability partner Nate, and it did wonders for my mood.
That's how therapists make money.
If feels good to be listened to, talk things out, or just have an internet friend on the same path as yourself.
Being a loner sucks, and will render you 100x more likely to quit when the going gets tough. Having real friendships in your niche, as well as other levels of blogging accountability…will hold you to what you've started, and encourage you along the way.
Lily and Ms. FAF have developed an incredible level of trust and support. We should all be lucky to have another blogger who sincerely wants what's best for us.
Love this episode and these two delightful bloggers? Please chime in below in the comments!