This is my brutally honest Jasper AI review (formerly Jarvis) for bloggers, copywriters, and creators.
As a 13-year veteran blogger, I have been REALLY skeptical of these AI tools, and I've tried just about all of them over the past 2 years.
Out of all of those, Jasper.ai is the tool I keep coming back to, and the only AI tool I can officially recommend!
Outside of maybe ChatGPT, but that's another story!
It took some tinkering, but I finally "figured Jasper out" a few months ago, and OMG has it changed my content production for the BETTER. I'm even Jarvis certified now!
Table of Contents:
Do you think a robot can write better than you? Is Jasper worth it for YOU? Keep reading!
My Overall Recommendation & Jasper Experience
Jasper.ai is a paid writing assistant that uses AI and machine learning–to help you produce content faster & easier.
And for that?
Jasper is a total success! It DOES work, and it can absolutely speed up the process of composing blog posts or generating powerful copy for your product/service.
However, if you expect Jarvis to do ALL the work for you, you'll be disappointed. It's not a standalone "one click and I'll publish whatever it spits out" sort of AI!
It took me a while to realize this…you still need to guide the Jasper AI quite heavily, and that can take a little while to figure out! (hopefully my tips below will help).
Who is Jasper a good fit for? Overall thoughts:
If you're willing to learn how to use Jasper a bit, it's absolutely worth it.
The Starter Plan would be perfect for copywriters since you still have access to the templates and don't need a ton of words each month.
However, bloggers and SEOs will get the most use from the Jasper Boss Mode plan! You get a lot more content each month and the long-form editor is WORTH IT.
Final Verdict: Is Jasper.ai worth the price?
All-in-all, I can fully recommend Jasper.ai for anybody who is willing to accept the fact that it's an assistant, not a 1-click solution! If you produce a lot of content and want that process to go faster, Jasper CAN and WILL help.
Jasper.ai Pros and Cons
| ✅ PROS | ❌ CONS |
| --- | --- |
| Easily the best AI writing tool I've tested (out of 5 competitors) | There is a small learning curve to "figure it out" |
| Faster content production | A bit pricey for beginners (but it works better at least) |
| A surprisingly great text editor (the long-form editor) | You definitely need to fact-check all content produced. |
| GREAT integrations with SurferSEO, Grammarly, and even a Copyscape plagiarism checker | |
| The copywriting templates & blogging recipes work, and work well! | |
| They are constantly releasing updates and improving the AI | |
| INSANELY good support. Like, literally the best I've seen in a long time | |
What is Jasper AI? Product Overview
Jasper is an AI-powered writing assistant.
It helps creators, bloggers, writers, etc, get past writer's block and get their ideas on paper, faster!
It uses a technology called GPT-3 (from OpenAI). Not to get TOO technical, but GPT-3 is basically artificial intelligence software that has been "trained" on a large amount of data.
Here's how it works (the simple version):
You give Jasper basic info on what to create.
Jasper takes your info & analyzes its huge database of internet content
Jasper writes some outputs for you to review and edit
That's the basic technology of GPT-3, but Jasper takes it several steps further, allowing you to customize the outputs for certain tasks like blogging, copywriting frameworks (like AIDA & PAS), and even tone of voice!
You input instructions for what type of content you're creating, and Jasper spit out content for you to edit.
Who is the team behind Jasper?
Jasper was actually developed by the same company behind Proof (a long-time player in the digital marketing world). They aren't strangers to creating helpful Saas products for creators & marketers.
Pricing: How much does Jasper AI cost?
There are 2 main plans for Jasper:
Starter Plan – starts at $29/month
$29/month gets you 20,000 words generated per month
Full access to AI copywriting skills & templates
Full access to 25+ languages
Full access to trainings, Jasper FB group
The starter plan is probably best for anybody who produces short-form content, like social media posts, emails, or copywriting assets (sales pages, landing pages, etc).
Yes, long-form creators (bloggers & SEOs) can make use of the starter plan, but there are a few key features they'd be missing…
Boss Mode Plan – starts at $59/month
$59/month gets you 50,000 words generated per month
Access to everything in the starter plan
Long-form document editor
Integrations with SurferSEO, Grammarly, and a plagiarism checker
A much longer "content-lookback"
Jasper "commands."
Priority support
Personally, I'm on the $59/month Boss Mode plan, as I sincerely believe the long-form editor, integrations, and "content lookback" are WORTH IT.
Boss Mode is a must-have for long-form content creators, and the good news is they lowered their prices! (it used to start at $119/month. Whew!)
For more info on those boss mode features, see our features section below!
Does Jasper.ai offer a free trial?
Sorta. They do offer a "risk-free 5-day money-back guarantee," which is promised to be a no-questions-asked refund!
AND–if you sign up for Jasper with our special link, you get 10,000 word credits for free!
How do the credits work?
When Jasper outputs a word, 1 credit is used up. (using the long-form editor or short-form templates, skills, etc!).
The starter plan gets 20k credits every month, and if you go over, you can either upgrade your plan OR buy a one-time bonus pack!
IMPORTANT NOTE: The plagiarism check isn't free (but it's absurdly cheap).
The plagiarism check uses a popular tool called Copyscape, and it costs you a few cents for each blog post. You can simply add a "balance" of $10 or so to your account, and that will last you a LOT of words.
A 1,900-word article costs me $0.19 to run.
Who is Jasper for?
The short answer is "anybody who writes anything," but that's kinda broad.
The following people will benefit THE MOST from Jasper:
Bloggers who struggle with HOW LONG it takes to produce content
Bloggers & SEOs who pump out a LOT of content (for niche sites, blogs, etc)
Copywriters who work with clients or agencies, and are CONSTANTLY creating new copy and testing new ideas
Anybody who works in paid ads (Facebook Ads, Google Ads, etc, where a LOT of copy is needed for testing, etc)
Podcasters and YouTubers who work off of scripts
That said, the following people might also benefit from Jasper (but probably only need the Starter Plan).
Brand-new bloggers who aren't making any money yet from their blogs
Podcasters and YouTubers who don't use scripts… (Jasper can get you fast content ideas, as well as titles and descriptions).
Authors – Jasper's AI can certainly help if you're writing a book, though you'll probably have to split up documents by chapters (or even smaller segments?)
While I do think that "anybody who creates content on the internet" can probably utilize Jasper is SOME way…
Bloggers, SEOs, and copywriters will benefit the MOST.
The bottom line is this:
If you're somebody who creates A LOT of content, then Jasper can be a HUGE time-saver for you (and help you produce better content).
If you don't create a lot of content, then Jasper might not be worth it… at least not yet.
Want to go deeper into how Jasper works? Check out my full Jasper AI Tutorial here!
Jasper.ai Features: A Full Tour
Let's take a look around the different features & benefits that Jasper has to offer.
Jasper Templates:
Jasper templates are specific use-cases for creating content!
Need to write a compelling Facebook Ad?
Need to whip up a quick outline for your next YouTube video?
Want to tell a fun and creative story for your next blog post?
Choose the template, and Jaster walks you through, step-by-step!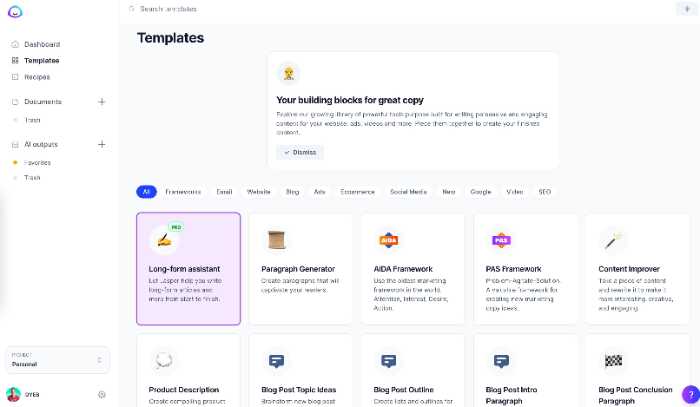 The outputs of these templates are mostly short-form content (obviously except for the "long-form assistant."
Here are some of the more popular templates in Jasper:
Blogging Templates:
Paragraph Generator: You give an idea of what to write, and Jasper will spit out a paragraph (or more) of content for you to use!
Long-form assistant: This templates walks you through, step-by-step, of what to include in your blog post (introduction, conclusion, etc).
Blog Post Outline: This is just what it sounds like…Jasper will help you create an outline for your blog post!
Blog Post Topic Ideas: Jasper will help you brainstorm ideas for your next blog post.
Blog Post Intro: Jasper writes an intro to your blog post
Blog Post Conclusion Paragraph: Jasper writes a nice little summary conclusion.
Creative Story: You'll give Jasper some inputs, and the AI will write a story that engages readers.
There are more to help you create blog posts, but those are the bigger ones.
Copywriting Templates:
AIDA Framework: AIDA stands for Attention, Interest, Desire, Action. Give Jasper info about your product, and it'll output the framework used by copywriters around the world to write effective sales pages, landing pages, etc.
PAS Framework: A similar framework to give sales copy, PAS stands for Problem, Agitation, Solution.
Facebook Ad: You'll give Jasper info about your product and target market, and it'll write ad copy! THIS IS GOLD for FB ad people–mostly due to the fact you generally need SEVERAL ads to test.
Google Ads: Same thing, but for Google Ads!
Product Description: You'll give Jasper info about your product, and it writes a description for you to use on e-commerce platforms, etc.
There are loads more templates, too!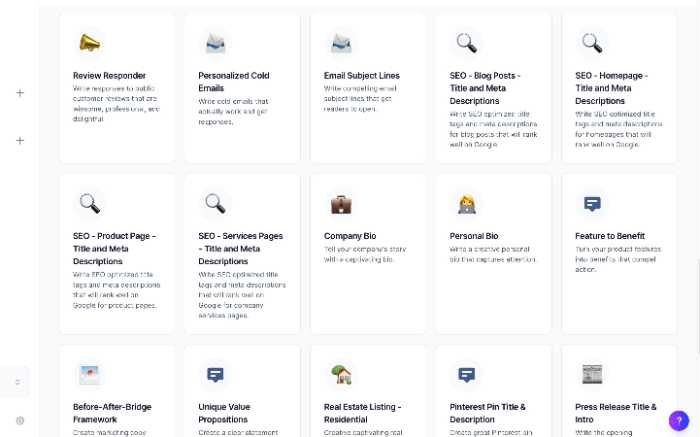 SEO titles and descriptions
Unique Value Propositions
YouTube outlines & descriptions
Real Estate Listings
The list goes on. These are fantastic short-form wins! It'll even write a personal bio for you. My example below is with a "Will Ferrell" tone of voice.
Long-Form Document Editor (Boss Mode Only)
The long-form editor is a bonified text-editing space similar to a Google Doc, WordPress editor, etc.
The amazing thing about the document editor is the "content lookback."
Basically, Jasper will look back at all of the content you've written, and USE that data to create content EVEN BETTER.
The more you write, the better Jasper gets at…
Saying the right things
Adapting to YOUR tone and YOUR voice
Adapting to your natural formatting.
I can't underline this enough: The long-form editor is absolutely fantastic, and where I spend 95% of my time in Jasper.
Integrations with SurferSEO, Grammarly, and Copyscape
Also, you can also access "SEO Mode" and "Power Mode" in the long-form editor.
SEO Mode = If you pay for SurferSEO (it doesn't come with Jasper), you can access your SEO tools in a sidebar.
You'll need a paid SurferSEO account to use this, but the setup and integration is literally 30 seconds. It's super easy.
I personally hope they add more integrations like this soon!
From the editor, you can also access:
The Plagiarism checker
A "re-phrase" tool for sentences (to make things sound more natural)
A grammar fixer
Enable or disable Grammarly
An "explain it to a 5th grader" tool that'll simplify text you select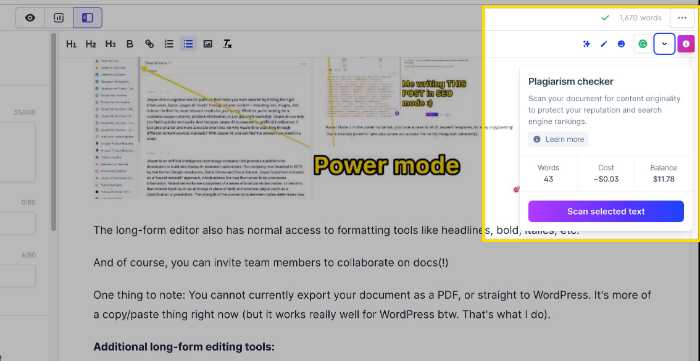 Grammarly works by default right in the editor.
Power Mode = In the power mode tab, you have access to all of Jasper's templates, for easy copy/pasting! That's insanely powerful (and also where you access the handy Paragraph Generator).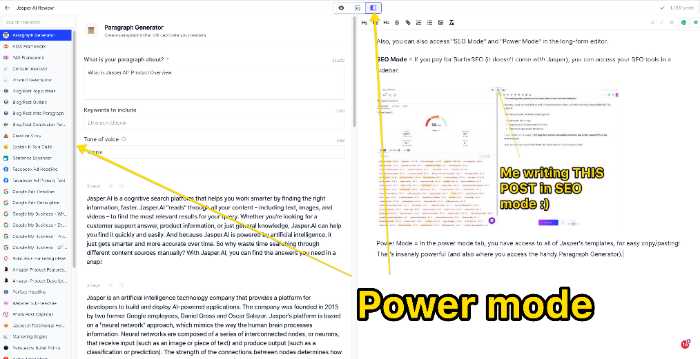 The long-form editor also has normal access to formatting tools like headlines, bold, italics, etc.
And of course, you can invite team members to collaborate on docs(!)
One thing to note: You cannot currently export your document as a PDF, or straight to WordPress. It's more of a copy/paste thing right now (but it works really well for WordPress btw. That's what I do).
Jasper "Commands" (Boss Mode only)
In the long-form editor, you'll see a "compose" button that will run your instructions for Jasper to analyze and give output.
BUT there's another way to tell Jasper what to create–via "commands."
Basically, you can "command" Jasper with natural language processing (i.e. you say "write a blah blah"), and it follows your orders.
For Example:
If you want Jasper to write a pros and cons list, you might type out "write a pros and cons list for upgrading to the iPhone 13."
Then you hit "Command/Control + Enter," and Jasper reads the commands and executes it.
This is actually quite a bit more functional than the "compose" button, because you can give detailed instructions in a "natural language."
Tell Jasper to…
"write an intro"
"write a list of subheaders for the header above"
"write a list of F.A.Q. for this blog post"
etc
Super powerful.
Jasper Recipes: What are they and how do they work?
I LOVE Jasper's recipes!! This was a brilliant idea.
Jasper Recipes are community-made templates for different types of content that you can deploy into the long-form editor with one click.
They could be literally anything!
These "recipes" contain some instructions for getting started, and then literally have Jarvis commands ready to go.
Since Jasper REQUIRES you to give it direction–recipes are nice because they have instructions built-in.
You can also tinker and save your own recipes!
Want to see my full tutorial on Jasper AI Recipes? Read this post.
I've been making my own recipes for different types of blog posts!
short info content
review posts like this one
round-up listicles
etc
Jasper "Tone of Voice"
Jasper can write in different styles!
For example, I typically write in a light-hearted, fun style, so I'll generally input "fun," "playful," or "witty."
You can also input popular celebrities, comedians, etc. It's not 1,000% accurate all the time–but these can be really fun to play with (ESPECIALLY in the Jasper templates for sales copywriting, etc).
AND–not only can you CHOOSE a tone of voice for your content, but Jasper will also "learn" your tone of voice the more you use it.
You'll find the "compose" function working a LOT better after you've written a few things with Jasper. AI is smart.
Unlimited Project Workspaces
If you work on multiple projects, Jasper allows the creation of unlimited workspaces to keep everything separate.
This is SUPER handy if you want to use Jasper for things like:
Client work
Your own projects
Multiple blogs
Agency work
Etc
Plus…you can share workspaces with other people! So if you have a team or work with freelancers, this can be essential for staying organized.
Jasper Community Facebook Group
Yes, just about every company on the internet has a Facebook group, but the Jasper community is EASILY one of the more useful ones I've seen!
It's extremely active, and there are lots of new ideas and use cases being shared every day.
Also, the Jasper team has some recurring threads for sharing your work, or even posting writing jobs (or GETTING writing jobs).
If I have questions, the Jasper community is generally the FIRST place I go to, as the response time is almost immediate. They did an excellent job setting that group up!
Jasper AI Bootcamp and Official Training
Wait–this blog post wasn't enough?? How dare you.
Just kidding.
The Jasper team totally understands that their tool DOES require a learning curve. Luckily for us, they've put together an excellent Bootcamp and training program to help people learn how to use Jasper.
The Bootcamp is a series of video & text lessons that guide you through the basics of setting up and using Jasper. This is INVALUABLE, as it helps you learn not just HOW to use Jasper–but also some best practices for actually making this tool work for you.
Seriously, you have to learn how to use AI tools. They aren't "1-click and done."
More good news: The BootCamp is surprisingly short. Yeah there's a learning curve, but it's not going to take you WEEKS to figure out. The videos & lessons are short and to-the-point.
Jasper is VERY well documented. I love when companies take the time to make helpful content surrounding their product! Shows they care.
Live training & webinars
There are also weekly webinar training from the Jasper team.
And generally, they aren't JUST the Jasper team talking about how great the product is–they often feature OTHER creators and how they're using Jasper.
They're well-done and totally free of course.
Jasper supported languages
If English isn't your 1st language (or you blog internationally), you're in luck! Jasper supports over 25 input and output languages.
Jasper AI Tutorial & Best Practices
If you want to get the most out of Jasper, there are a few tips & tricks that I'd like to share here:
1 – Think of Jasper as an ASSISTANT
Jasper isn't here to write for you COMPLETELY, or do all the work. It's here to help you write.
Jasper isn't really capable of writing entire blog posts with no guides. However, it's REALLY good at listening!
Make it a point to always give Jasper enough context and details (yes, it takes a second to write this context and details–but Jasper is still a time-saver even taking this into account).
2 – Edit as you go
This is the single biggest reason people give Jasper a try–and are disappointed.
They give Jasper a LITTLE detail
Hit compose
Hit compose again, without editing or adding,
etc.
The Jasper AI can get "off track" really fast.
However, if you can consistently edit Jasper's output (for your own formatting and tone), the AI WILL start to pick up on what you're doing, and it will work so much better!
Give Jasper the details
Hit compose (or use a Jasper command, etc)
Edit the output, fix factual errors, fix formatting and tone
THEN let Jasper do more work
3 – Get used to constantly deleting Jasper's work.
At the end of the day, Jasper is just an algorithm. It's not human, and it doesn't KNOW what's right or wrong.
Make peace with the fact that you'll do a ton of deleting! That's just part of the process.
Give Jasper inputs
Edit his outputs
Repeat
You'll see a LOT of bad content (especially if you're new to Jasper). Don't worry, it's not just you! I STILL delete a lot of outputs.
4 – Jasper doesn't do "facts" or "opinions" well, so feed that into Jasper!
Here's another brilliant idea:
Do your topic/product research beforehand
Compile some talking points, facts or points of interest, and your own opinions about your topic
(Optional: Go ahead and create an outline for your content)
Put that content at the top of your Jasper document editor!
Don't worry about formatting or grammar.
Think of this as "feeding Jasper" the correct information to work with. You'll notice that the AI will refer BACK to your talking points, outline, etc, throughout the document editor.
This will save you a TON of headache. If Jasper doesn't have the facts, he sometimes just makes stuff up.
5 – Limit Jasper outputs to 1 or 2
By default, hitting compose in the Jasper templates (or long-form editor) will generate 3 outputs. This is usually a waste of Jasper credits!
Instead, limit your Jasper outputs to 1 or 2.
If you want more, you can always hit compose again.
6 – Don't give up! It gets easier (and way faster)
When I first started using Jasper, I was SO frustrated. I thought the product didn't work, and that I wasted my money.
But I'm SO glad I gave it another chance!
Hopefully, these tips help, but it does take a bit of tinkering to get the hang of it.
7 – Use Jasper for what it's good at
Jasper is GREAT for content ideation, brain dumping, and getting FIRST DRAFTS DONE FAST.
It's not for polishing. It's for bulk-generating drafts.
It's not for finished copywriting. It's for getting ideas fast.
It's also great for taking existing content and improving it, making it simpler, etc.
Jasper AI examples
Just for fun, let's take a look at some examples I've done.
Blog post examples:
First, this very blog post was written in Jasper 😉
I started by research this article and creating an outline OUTSIDE Jasper
I brought in the outline and my opinions
I went header by header, alternating between ME writing, and Jasper writing
I copy and pasted into WordPress for final formatting and editing
If you'd to see another finished blog post I used Jasper for, check out this article about how to build a custom keyboard.
Paragraph Generator
Now, what if I use the paragraph generator for the next little bit (about how this has taken about 2 hours to write so far because I've been editing as I go)?
Output: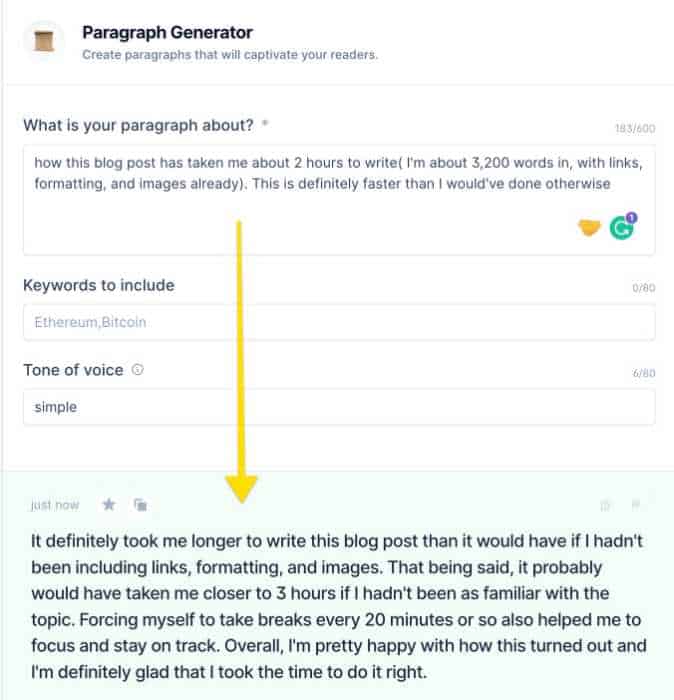 Jasper Boss Mode Command Examples:
Here's a command:
"write a list of people who jasper would be a good fit for"
or how about…
"write an AIDA for the content above"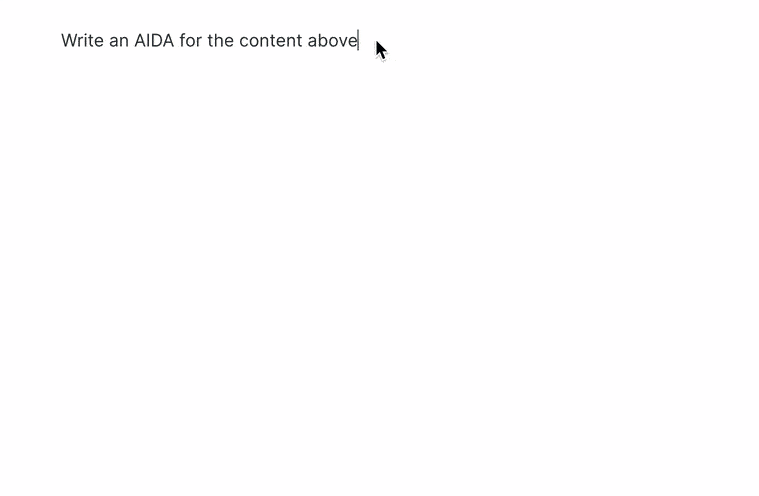 Blog post topic ideas
Now let's generate some content ideas using a template–and let's pretend I'm trying to sell more copies of my 1HR BLOG POST templates…
Instagram Post Captions
I like this one! I could see great potential for bulk-scheduling IG posts (or other social media posts).
YouTube Video Script Outline
This really isn't specific to video, either. Podcasters could use this too!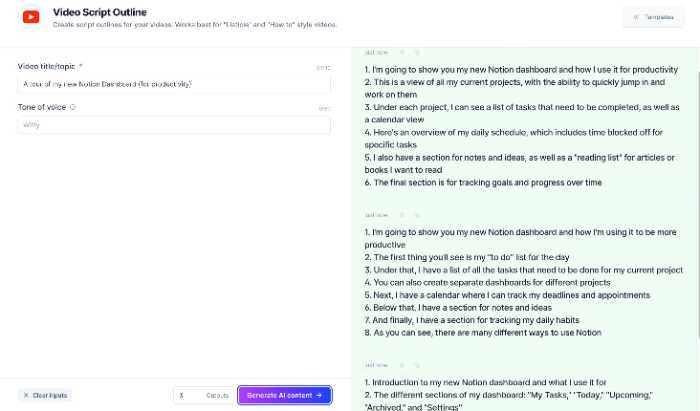 Feature to Benefit Copywriting Template
If you have a product, it's always helpful to translate the features of your products–to the benefits that your customers will get!
Even without giving Jasper specific features, he was able to come up with cool stuff using this framework:
Now that we've seen Jasper in action, it's times to check out some Jasper alternatives!
Jasper.ai Alternatives
Ok, so Jasper isn't perfect. No tool is!
Here are some alternatives to Jasper that you may want to check out:
NOTE: It's worth noting that MOST of these AI tools actually use the same underlying software from OpenAI, called GPT-3!
The AI software is the same, so it mostly comes down to how these tools USE the AI:
How much control they give YOU
How customizable the inputs are (tone of voice, etc)
Long-form editing
Features geared towards specific people (blogger? copywriter? both?)
Etc
Copy.ai
Summary: Copy.ai is equally good for short-form content like Facebook Ads, etc, but their long-form content is NOWHERE NEAR as good as Jasper's
Pricing: Copy.ai has a limited free plan, and paid plans start at $35/month (billed annually)
Copy.ai is another great AI tool, but it's mostly geared towards copywriters, i.e. short-form content.
They have numerous templates, tools, etc, similar to Jasper, but they do NOT have a great long-term editor yet.
Bottom Line: It's simply not as good as Jasper's yet. But if you mostly work on ads or sales copy, give it a try for free here!
Writesonic
Summary: Built more for long-form content, but a bit clunky. If you use SEMrush already, this is a great fit.
Pricing: Several plans, starting at $15/month for access to the long-form writing assistant and SEMrush integration.
Writesonic is promoted as geared towards SEO creators specifically (though they also have the standard copywriting tools, Facebook Ads, sales content, etc).
They also have a native SEMrush integration!
Their long-form article generator works similar to Copy.ai's First Draft tool…
You input the title and description for your article
The AI generates an outline to review and edit
The AI uses THAT outline to start generating text, all at once
You edit
It works! But I still think Jasper.ai's long-form editor is better.
Bottom line: If you're into SEO and use SurferSEO (or nothing), I think Jasper wins. If you're using SEMrush, Writesonic is DEFINITELY what you want.
You can try Writesonic for free here.
Peppertype.ai
Summary: Geared towards agencies or companies, but the tools are pretty much the same. No long-form editor.
Pricing: The SMALLEST plans start at $35 / month, and the next plan is $199 / month.
Peppertype is definitely chasing a different audience, mostly targeting agencies & corporate work. They technically have blog-related AI tools, but they're still pretty limited.
Their copy tools are right on par with Jasper and Copy.ai, but they don't really have a long-form editor yet.
And while the $35/month plan has 50,000 monthly word credits (similar to Jasper), you'll have to pay $199/month (woah) for any collab or sharing options.
Also, their user interface seems SLOWER to me. Kinda frustrating and hard to work with.
Bottom line: I personally don't recommend Peppertype. I don't see any benefits over Jasper AI (and I think Copy.ai is better).
ContentBot.ai
Summary: ContentBot is newer and less powerful, but looks promising (and they have a "pay as you go plan."
Pricing: Pay as you go (cool!), and plans starting at $29/month. But no free trial, boo!
ContentBot DOES have a long-form editor (and it works well), but it's not as powerful as Jasper's.
For one thing, you don't have access to the AI tools inside the long-form editor (like the paragraph generator, for example), and the long-form assistant is less customizable. It's just one button that says "write for me."
They also have an interesting SEMrush integration where you…
put in your topic
SEMrush creates a "content plan," i.e. a few content ideas
ContentBot will send you the first 800 words each week, automated.
Kinda cool, but I don't see a massive benefit to this over other AI tools. You can whip out 800 words based on a topic in NO TIME in Jasper.
Bottom Line: ContentBot is trying to release cool new features, and the pay-as-you-go plan could be nice–but their tools aren't on par with Jasper yet, and they don't have a free trial.
Rytr.me
Summary: This is the budget pick for a reason: it's clunky & not as powerful. But it's cheap!
Pricing: Plans start at $9/month, but that's 50,000 characters per month, not words
If you're on a budget but want to try an AI writing assistant, Rytr is your best bet. Plans start at $9/month, which is 50,000 characters per month. That is NOT a lot.
For context, THIS blog post, up to this point, is over half of that.
That, and Rytr's user experience is not great.
I've been playing around with the long-form editor, and it is NOT easy to use. And the AI results have always disappointed me (the sentences just aren't as good for some reason. I don't know why).
Bottom Line: Yes, Rytr is cheap. But you get what you pay for. It's clunky and hard to use, and the AI outputs don't seem to be high quality.
You can try Rytr for free here!
woot woot.
Jasper.ai Frequently Asked Questions
Is Jasper AI worth it?
If you are looking to put out more long-form content or sales copy faster–Jasper AI is a great tool for the job. Whether or not it's "worth it" depends on how much content you need to produce. You'll want to experiment with the tool in order to judge its effectiveness for you and your writing needs!
Does Jasper AI work?
Yes! Jasper AI uses the GPT-3 Artificial Integellince & machine learning tool (from OpenAI) to help you write better and faster. You can use Jasper for short-form copywriting or for long-form blog content, and the AI outputs are customizable and work well.
Why is Jarvis now Jasper?
The Jarvis team received a cease and desist letter from Marvel, who owns the rights to the JARVIS trademark (it's the name of Tony Stark's (Ironman's) AI-assistant in the comics and movies. They were forced to rebrand their writing assistant software, and they chose Jasper as the new name.
Does Jasper.ai have an affiliate program?
Yes! Jasper has an affiliate program that pays up to 30% commission rates on all referrals. You can apply to join their program here.
Jasper AI Review Verdict – Is it Worth the Price?
In my opinion, Jasper is a FANTASTIC tool for anybody looking to produce more content, faster.
If you write blog posts (or any SEO content) 👉 you'll probably need the Boss Mode plan in order to maximize your benefit from Jasper, but it's worth it. They have THE BEST long-form editor from any AI writing assistant tool, and the 2,000-word lookback works really well.
If you're a copywriter who produces a LOT of content (agency or freelance), Jasper can definitely help you with pumping out marketing & sales copy ideas faster.
If you're a beginning blogger, you'll have to decide for yourself if the Jasper Starter Plan is worth it to you or not!
Click here to try Jasper and get 10,000 for free!
It's my preferred AI tool of choice, especially for creating high-quality blog posts, fast!